Shawarma with Sausage and Crab Sticks
by Editorial Staff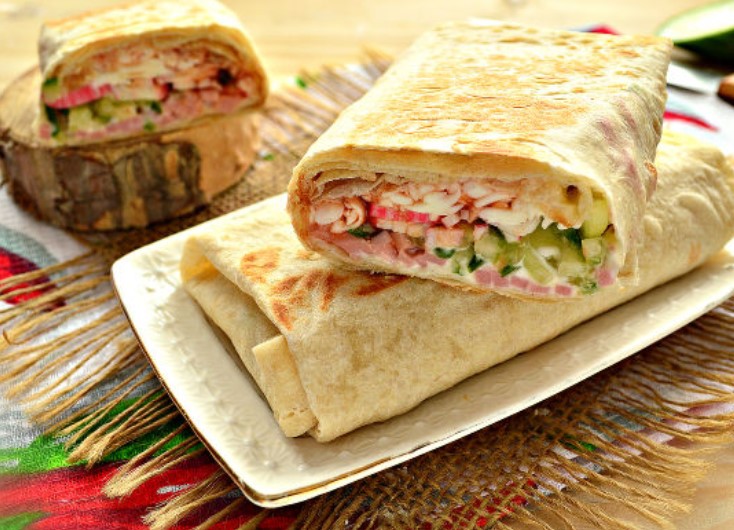 Shawarma has long won the hearts and stomachs of our compatriots. Indeed, for a snack, this dish is the best option. True, it is better to cook shawarma at home. For example, here is a simple sausage shawarma recipe that also uses crab sticks.
Ingredients
Thin lavash – 1 pc.
Fresh cucumber – ½ pc.
Crab sticks – 4 pcs.
Boiled sausage – 100 g
Processed cheese – 90 g
Mayonnaise – 2 tbsp
Tomato ketchup – 3 tbsp
Salt to taste
Directions
For homemade shawarma with sausage, we take the right products. Thin lavash, of course, remains unchanged for all shawarma recipes. By the way, you can divide it into two parts.
Chop the ingredients for the filling. Let's do it as follows: cut the boiled sausage and fresh cucumber into thin strips. Grate the melted cheese, and give the crab sticks the shape of thin rings.

We begin the formation of homemade shawarma. We lay out a sheet of pita bread on the surface. Flavor one end of the pita bread with mayonnaise, without grabbing the edges.
Spread thin slices of sausage on top of mayonnaise.
This is followed by a row of fresh cucumber. Add a little bit.
Continue with a layer of crab sticks.
It remains to lay out the grated cheese.
Sprinkle the top layer with a little tomato ketchup.

We fold pita bread in the form of an envelope.
Fry the resulting pita bread on both sides in a frying pan, the surface of which should be lightly oiled.
Shawarma with sausage and crab sticks is ready. Snack time with delicious homemade shawarma!
Bon appetit!
Also Like
Comments for "Shawarma with Sausage and Crab Sticks"