Sprats in Crab Sticks
by Editorial Staff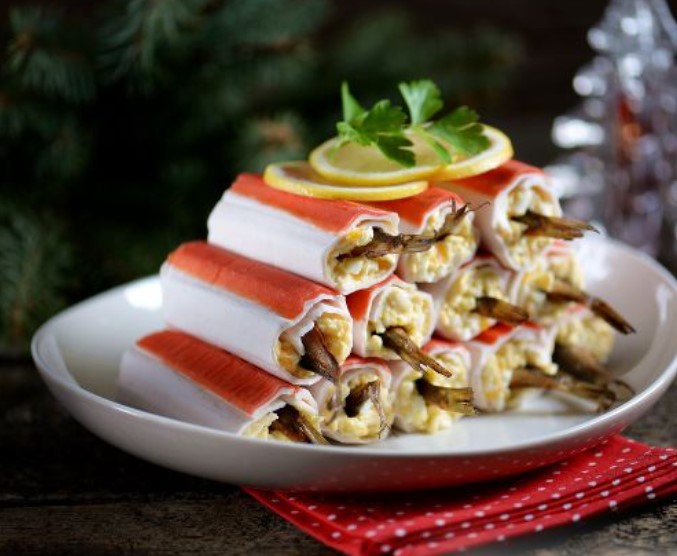 Sprats in crab sticks are a very interesting appetizer for the festive New Year's menu.
Cook: 30 mins
Servings: 15
Ingredients
Crab sticks – 350 g
Sprats, canned in oil – 1 can
Processed cheese – 100 g
Eggs – 3 pcs.
Mayonnaise – 3 tbsp
Salt to taste
Ground black pepper – to taste
Directions
Prepare the sprat ingredients in crab sticks. Boil the eggs 8 minutes after boiling, cool in cold water, peel them.

Defrost crab sticks of good quality and a trusted manufacturer in a natural way, unwind them along the seam.
Grate the melted cheese on a coarse grater. (The easiest way to do this is to put the cheese in the freezer for a while.)
Next, grate the boiled eggs on a coarse grater.
In a deep bowl, combine the cheese, eggs, mayonnaise, salt and pepper the filling. If you like, add garlic passed through a press – this makes the crab stick appetizer even tastier.
On a flat surface, spread the crab stick, put the previously prepared cheese filling with eggs and mayonnaise on it in a thin layer, put the sprat on the filling.

Roll the stuffed crab stick and sprat into a roll.
Do the same with the remaining ingredients. Cover the finished sprat snack in crab sticks with cling film and refrigerate for several hours.
Serve sprats in crab sticks on the festive table,
Bon appetit!
Also Like
Comments for "Sprats in Crab Sticks"