Curl Buns with Crab Sticks
by Editorial Staff
Wonderful homemade baked goods for a snack – savory curl buns made from yeast dough with aromatic filling of crab sticks, cheese, eggs and herbs. These snack buns are especially good when warm, fly away in no time! This original recipe for buns is definitely worthy of your attention!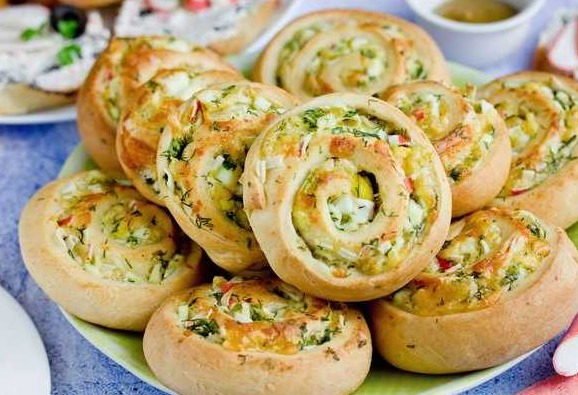 Cook: 1 hour 10 minutes
Ingredients
For the dough:
Flour – 280 g
Milk – 120 ml
Butter – 45 g
Dry fast-acting yeast – 1.5 teaspoon
Sugar – 2 teaspoon
Salt – 0.3 teaspoon
For filling:
Crab sticks – 120 g
Eggs – 2 pcs.
Hard cheese – 50 g
Green onions – 3 pcs.
Dill greens – 3 sprigs
Mayonnaise – 1 tbsp
Salt – 1 pinch
Ground black pepper – to taste
Directions
Prepare all the ingredients you need to make the crab stick curl buns.
Cook the eggs hard-boiled beforehand (within 10 minutes) and cool in cold water.

Make a yeast bun dough. Pour dry fast-acting yeast, sugar and salt into a bowl.
Pour in warm milk and melted and cooled butter. Stir with a whisk.
Add sifted flour.
Knead the dough.
Collect the dough into a ball and place in a bag. Refrigerate the dough while the filling is cooking.
While the dough is resting, prepare the filling with crab sticks, cheese, eggs, and herbs. Peel the crab sticks from the packaging and chop finely.
Peel the eggs and cut into small cubes.
Rinse the dill and green onions, chop with a knife.
Grate hard cheese on a coarse grater.
Combine crab sticks, eggs, herbs and cheese in a bowl. Pour in a pinch of salt and black pepper, stir.
The filling for the buns is ready.
Preheat the oven.
Remove the dough from the refrigerator and roll it into a thin rectangular layer.
Brush the surface of the dough with mayonnaise.
Place the filling on the dough greased with mayonnaise and spread it over the entire surface.

Roll the filled dough into a tight roll, which is cut into about 2-2.5 cm pieces.
Place the pieces on a baking sheet lined with baking parchment on one side of the cut. Press down lightly with the palm of your hand.
Bake the curl buns in an oven preheated to 180 degrees for 25-30 minutes.

Yeast buns with crab sticks, cheese, eggs and herbs are ready.
Serve the buns hot or warm.
Bon Appetit!
Also Like
Comments for "Curl Buns with Crab Sticks"