Fish Hodgepodge with Crab Sticks
by Editorial Staff
If you are tired of meat soups and borscht, diversify the menu of the first courses with a recipe for fish hodgepodge with crab sticks. This is a very tasty and unusual dish, besides, it cooks very quickly.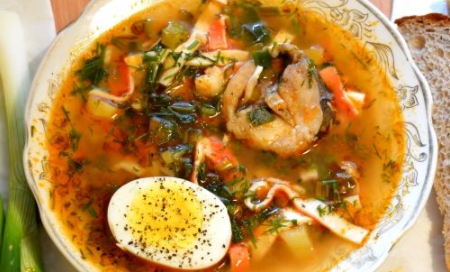 Ingredients
Potatoes – 1 kg
Sea fish (hake) – 600 g
Crab sticks – 240 g (1 pack)
Pickled cucumbers – 3 pcs.
Onions – 300 g
Carrots – 2 pcs.
Tomato paste – 2 tbsp
Vegetable oil
Butter
Salt
Condiments
Dry herbs
Water – 3 l
Directions
Peel the potatoes, cut them into cubes, fill them with water and put them on fire.

We take young onions, cut the white and green parts into rings separately. (If you have onions, cut them into cubes.)

Add carrots and butter to the onion.
While the onions and carrots are fried, prepare the cucumbers. Cut them into small cubes. (If you are short on time, you can grate the cucumbers.)
When the carrots and onions are fried, add the prepared cucumbers to them. Stir, cover and simmer for 7-10 minutes.
Add 2 tablespoon to vegetables. tablespoons of tomato paste and 2 ladles of potato broth.
Mix and add spices.
Add the green onions, cover and simmer for another 10 minutes.
While the vegetables are stewing, prepare the fish. It needs to be washed, peeled, fins cut off and cut into portions.
When the potatoes are almost ready, we send the fish to the pan. Salt, but take into account the fact that we will also add pickles, which are still stewing.
While the water is boiling again, cut the crab sticks into circles.
We send crab sticks and stewed vegetables to the pan. Cook for another 5 minutes, then leave for 15 minutes to infuse the soup.
Fish hodgepodge with crab sticks is ready.
Enjoy your meal!
Also Like
Comments for "Fish Hodgepodge with Crab Sticks"