Sandwiches with Sprats and Crab Sticks
by Editorial Staff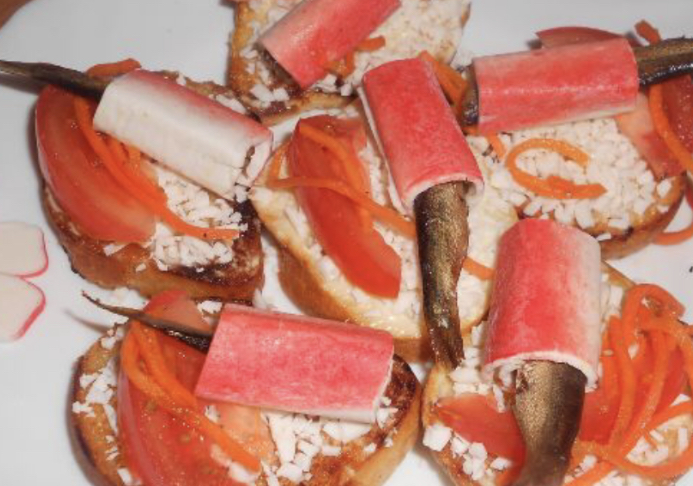 Quick-to-prepare, delicious and crispy sandwiches with sprats and crab sticks look great on the festive table. A very satisfying snack that your guests will surely enjoy.
Ingredients
Baton – 6 slices
Sprats – 6 pcs.
Crab sticks – 3 pcs.
Tomato (small) – 1 pc.
Mayonnaise – 2 tbsp
Vegetable oil
Directions
First, you need to cut the loaf into slices.
Then they must be dried in a preheated pan with a small amount of vegetable oil.
Fry over low heat to keep the toast soft inside.

Fry on both sides until golden brown.
Spread a little mayonnaise over the browned bread slices.
Cut crab sticks into 2 pieces each.
Now you need to carefully unfold the crab sticks and make room for the sprat 🙂
Finely chop the inside of the crab sticks.
And sprinkle them on top of our sandwiches.
You can mix the crushed crab sticks with mayonnaise, and only then spread the bread slices with this mass.
Place a fish inside the crab sticks 🙂
Chop the tomato arbitrarily.
Place a tomato slice on each slice.
I could not resist and decorated it with a little Korean carrot, I love it 🙂
The sandwiches are ready!
Can be secured with a skewer.
And serve it to the festive table or please your family with a new recipe 🙂
Enjoy your meal!
Also Like
Comments for "Sandwiches with Sprats and Crab Sticks"