Sandwiches with Sprats and Eggs
by Editorial Staff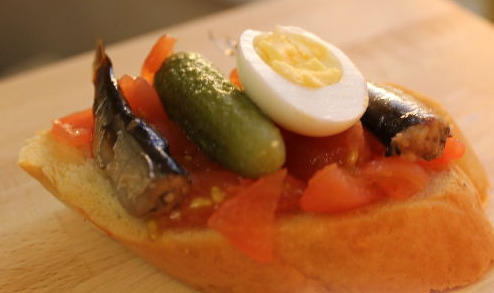 Follow the recipe and your imagination, and you will have a great appetizer on the festive table – sandwiches with sprats and eggs, with tomatoes and gherkins.
Ingredients
Thin sandwich loaf – 1 pc.
Sprats in oil – 160 g (1 can)
Canned gherkins (cucumbers) – 120 g
Cherry tomatoes – 100 g
Quail eggs – 3-5 pcs.
Olive oil – 20 g
Ground red pepper – to taste
Salt to taste
Directions
Put the quail eggs in a cooking ladle, fill with cold water, add salt so that the eggs do not crack during cooking, and cook for about 4 minutes after boiling.
Cut the sandwich loaf into slices about 1 cm wide, you should get about 6 slices.
Grease the baking dish generously with olive oil.
Put the sliced ​​loaf into a mold and put in an oven preheated to 180 degrees.
Pour boiling water over the tomatoes to easily peel off the skin.
Add a little olive oil, salt, and pepper to taste into chopped peeled tomatoes.

Peel the quail eggs and cut them into halves.
Remove the browned loaf slices from the oven.

Carefully lay the tomato mixture on the slices of the loaf, let it soak a little into the loaf. Then put on each slice of bread one or two fish, gherkin, and half an egg.
You can put the ingredients in any order, and you can decorate the sandwiches with sprats, cucumbers, tomatoes, and eggs with leaves of greens if you wish.
Enjoy your meal!
Also Like
Comments for "Sandwiches with Sprats and Eggs"