Sprat Sandwiches
by Editorial Staff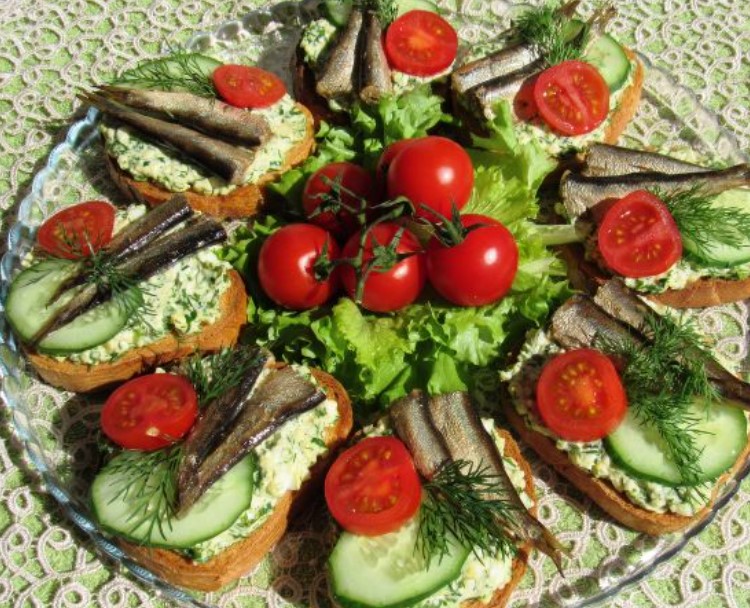 Bright sandwiches with sprats will decorate your festive table. Make this recipe sandwiches and you will love the combination of crispy bread, delicate egg filling and the expressive taste of smoked fish.
Ingredients
Sliced ​​loaf – 15-18 slices
Sprats – 1 medium can (190g)
Boiled eggs – 3 pcs.
Fresh cucumber – 1 pc.
Cherry tomatoes – 5-7 pcs. + for decoration (optional)
Mayonnaise – 150 g
Green onions – 1 small bunch
Fresh parsley – 1 small bunch
Fresh dill – 1 small bunch
Leaf salad (optional) – for decoration
Directions
Let's prepare the ingredients for the sprat sandwiches.

Dry the loaf slices on a dry baking sheet in the oven at 200 degrees for 15-20 minutes. The bread slices should be a nice caramel color.
Finely chop the green onion, parsley and dill.
Crush hard-boiled eggs with a fork in a deep bowl until finely crumbled.
Combine chopped greens, chopped eggs and mayonnaise until smooth.
Spread the slices of toasted loaf with the resulting paste, in a layer of about 1 cm.
We start collecting sandwiches. For each slice of bread, put 1 circle of cucumber and tomato, 2 fish each and garnish with a sprig of dill.
Sprat sandwiches should be served in one layer on a large plate. Get creative and decorate the dish with fresh vegetables.

Fragrant and bright sandwiches with sprats are ready.
Good appetite!
Also Like
Comments for "Sprat Sandwiches"