Sprat Sandwiches
by Editorial Staff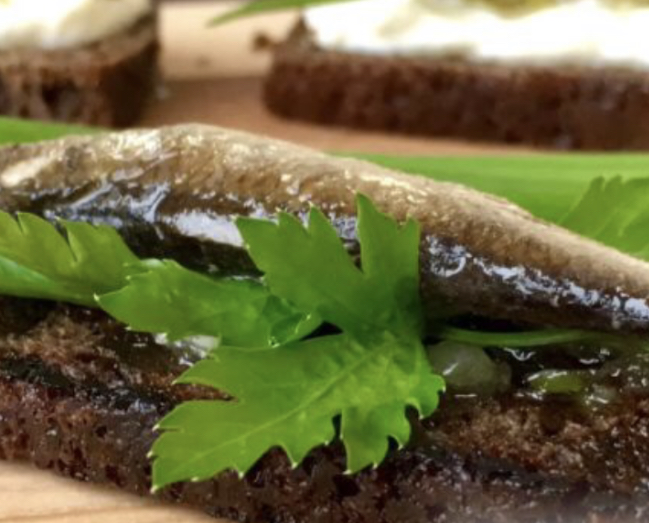 Sandwiches with sprats are a universal appetizer for a festive table, which is very easy to make. Prepare sandwiches with and without mayonnaise so that every guest can find a snack to their liking!
Ingredients
Rye bread
Sprats – 1 jar (250-300 g)
Mayonnaise – 100 g
Garlic – 2-4 cloves
Pickled cucumber – 2 pcs.
Olive oil – 30 ml
Green onion
Parsley
Directions
We prepare the ingredients for the sprat sandwiches. I have prepared two sets of ingredients because I will be making different types of snacks:
1. Sandwiches with sprats, mayonnaise, lightly salted cucumbers, and green onions.
2. Sandwiches with sprats, olive oil, and parsley.

We take rye bread and cut it into slices. Then we cut each piece in half.
Fry half of the total amount of bread on both sides in a greased frying pan.
Peel the garlic and squeeze through a press. Mix half with mayonnaise, and the rest with butter. Leave for 5 minutes for the garlic to "give off" its flavor.
Cut the cucumbers lengthwise into thin slices.
We begin to collect the first type of sandwiches. Grease the bread that has not been fried in a pan with mayonnaise, leaving the edges free. Top with cucumbers, green onion feathers, and sprats. The first batch of sandwiches is ready.
We take croutons and grease them with garlic oil. Then distribute the garlic, which was in oil, on top. We spread any greens and sprats.

Sprat sandwiches are ready. This whole snack was ground up in five minutes.
Enjoy your meal!
Also Like
Comments for "Sprat Sandwiches"