Sprat Sandwiches
by Editorial Staff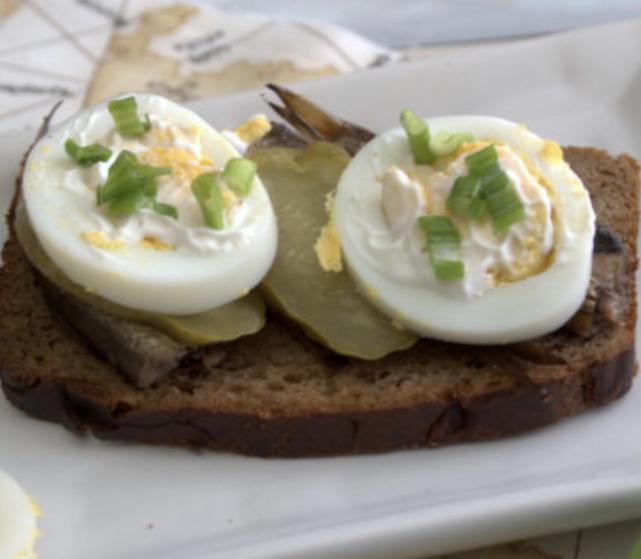 An interesting and original way of making sandwiches with sprats that will look great on a festive table. This recipe is slightly different from the classic sprat sandwiches.
Ingredients
Black bread (rye or malt) – 6 pieces
Sprats – 9-12 pcs.
Boiled egg – 1 pc.
Pickled gherkins – 1-2 pcs.
Mayonnaise – 1-2 tablespoons
Greens (green onions) (optional)
For sandwiches, black (rye or malt) bread is used, which does not need to be fried in oil.
You can complement this dish to your liking: replace canned gherkins with fresh cucumbers or add chopped olives or olives.
Chicken eggs can be replaced with quail eggs. This will make your sprat sandwiches even more original and appetizing.
Mayonnaise can be substituted with Dijon mustard, or omitted from the recipe (optional).
Rye bread sandwiches can be made with one slice of bread (without covering the filling with the second slice), as well as with two.
We use only high-quality sprats. So we can be sure of the quality of the ready-made sandwiches.
Such sandwiches can be served for lunch or dinner, as well as taken with you as a light snack for a walk or to the office (placed in a container with a lid).
Directions
We prepare all the components.

We clean the boiled egg from the thin shell and chop it into small circles.
Cut the bread into thin slices. We use malt, Borodino, or rye bread for making sandwiches.
We spread fish (2-3 pcs.) On rye bread slices.
Shred the pickled cucumber into thin slices and put it on the sprats.
The last step is adding the eggs.
Cover the eggs with mayonnaise. To do this, we use homemade sauce or one that we purchased in a store.

If desired, cover the sandwich with the second slice of rye bread.
We serve sandwiches with sprats with herbs, vegetable salad, or "solo" – as an independent dish.
Enjoy your meal!
Also Like
Comments for "Sprat Sandwiches"