Sandwiches with Sprats, Eggs and Cucumbers
by Editorial Staff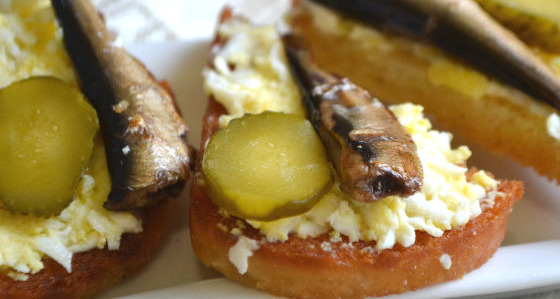 Delicious and aromatic sandwiches with sprats, eggs, and pickled cucumbers are sure to please your family and friends.
Ingredients
Sprats – 10 pcs.
Egg – 1 pc.
Pickled cucumbers – 2-3 pcs.
White bread – 10 slices
Mayonnaise – 3 tbsp
Vegetable oil – 1 tbsp
How to make sandwiches with sprats, eggs, and cucumbers:
Directions
We cook slices of white bread in a toaster. If there is no toaster, fry the bread in a pan, with the addition of vegetable oil, on both sides until golden brown. Large slices of bread can be cut in half.
Hard boil the egg (10 minutes in salted water), cool, peel, and rub on a fine grater.
Cut the pickled cucumber into oval pieces.
We form sandwiches. Apply mayonnaise with a thin layer on toasted slices of white bread.
Put the grated egg on mayonnaise.

Put the sliced ​​cucumbers on a grated egg, in the middle or on the side. On a cucumber, top or side put one fish at a time. We spread ready-made sandwiches with sprats, eggs, and cucumbers on a plate.
Enjoy your meal!
Also Like
Comments for "Sandwiches with Sprats, Eggs and Cucumbers"