Sandwiches with Sprats, Egg and Cucumber
by Editorial Staff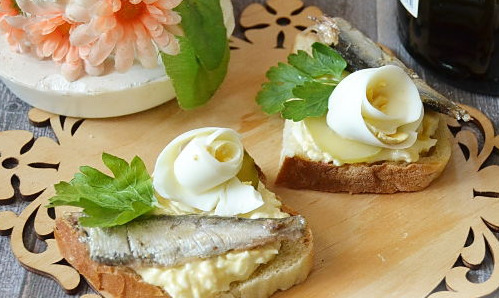 Sandwiches are a universal dish both for a holiday and for every day. And sandwiches with sprats are also popular due to the simplicity of their preparation. I suggest making festive sandwiches with sprats, eggs, and cucumber.
Ingredients
Baton (baguette) – 0.5-1 pcs.
Eggs – 2 pcs.
Sprats – 1 can
Pickled cucumbers – 2-4 pcs.
Mayonnaise – 3-4 tbsp
Garlic – 2 cloves
Parsley to taste
Salt to taste
Ground black pepper – to taste
How to make sandwiches with sprats, eggs, and cucumbers:
Directions
Let's start by making a decoration for the sandwiches. Cut a thin strip from the peeled eggs with a sharp knife. We twist it, put a pinch of egg yolk in the center. Decorate the resulting flowers with parsley leaves. Since the strips can rip and fall apart, it may be advisable to boil more eggs.
The eggs from which we have already cut strips for decoration, rub on a coarse or fine grater.
(Despite the fact that we use only two eggs, and even then we have already cut strips from them, the resulting mass is enough to decorate 6-8 small sandwiches.)
Add mayonnaise, salt, and pepper.
For piquancy, you can squeeze the garlic.
Let's mix. The sandwich spread is ready.

Let's start forming sandwiches. Spread the egg-mayonnaise paste on the bread (in a thin layer of thick – decide for yourself). Put the sprat on the edge.

Cut the pickled cucumbers into thin slices. (Cucumbers can also be cut into slices if the size of the bread allows. Then you may need more cucumbers.) Place a thin circle of pickled cucumber in the free space.
Put the previously prepared egg flower and parsley leaf on the cucumber. The sandwich is ready.
Enjoy your meal!
Also Like
Comments for "Sandwiches with Sprats, Egg and Cucumber"