Squid Stuffed with Crab Sticks
by Editorial Staff
Prepare a great cold stuffed squid appetizer and delight your guests with a new dish!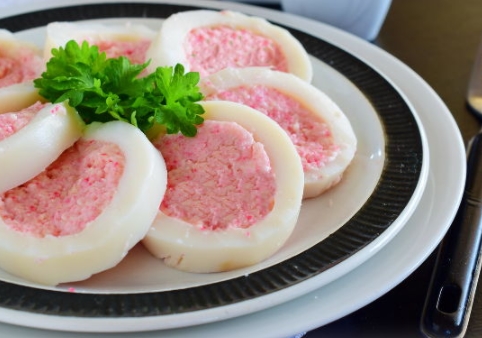 Cook: 1 hour
Servings: 2
Ingredients
Squid – 1 pc. (200 g) or 2 pcs. small
Crab sticks – 100 g
Hard cheese – 60 g
Garlic – 1 clove
Sour cream or mayonnaise – 1 tbsp
Greens (parsley) – for decoration
Directions
Prepare all the ingredients for cooking stuffed squid.

Grate hard cheese.

Cut the crab sticks into cubes.
Place the chopped crab sticks, grated cheese, and a clove of garlic into the blender bowl after peeling it.
Mix all the ingredients in a blender until smooth. Add sour cream or mayonnaise and stir again with a spoon. The filling is ready.
Boil 1 liter of water in a saucepan, add a pinch of salt. Boil the squid in boiling water for 1-2 minutes. (Cook small squid for no more than a minute.) Peel the squid carcass from the film (to make it easier, pour over the boiled squid immediately with cold water) and remove the chitin plate that is inside.
Cool the squid completely.
Fill the squid carcass with the prepared filling. Place the squid in a tall glass for convenience.
Send the stuffed squid to the refrigerator for at least 30 minutes, possibly longer, for 1-2 hours.
Before serving, cut the stuffed squid into rings and place on a platter.

The squid stuffed with crab sticks is ready. Garnish the snack with fresh herbs.
Enjoy your meal!
Also Like
Comments for "Squid Stuffed with Crab Sticks"