Squid Pigs (Stuffed Squid)
by Editorial Staff
An interesting dish that turns regular stuffed squid into piglets. If not for the size, then they could be confused with real pigs. Squid pigs stuffed with rice with mushrooms, eggs, cheese are very pleasant and light in taste. They will also decorate any festive table.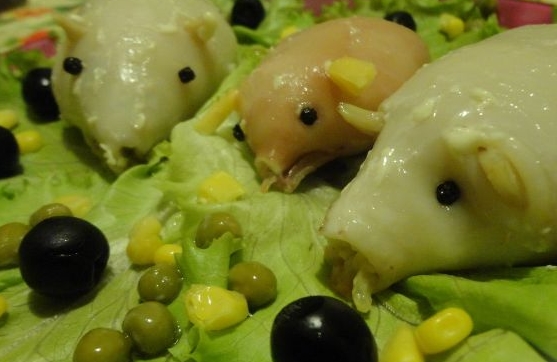 Cook: 1 hour
Ingredients
Squids (carcasses) – 5 pcs.
Champignons – 200 g
Rice – 150 g
Hard cheese – 100 g
Chicken eggs – 2 pcs.
Carrots – 1 pc.
Bulb onions – 1 pc.
Mayonnaise – 50 g
Lettuce leaves (for decoration) – 1 bunch
Directions
Fill the squid carcasses with boiling water for 20 seconds, then rinse them in cold water. We clean the insides, remove the chord, remove the film with a knife.

Cook rice.

Fry a little chopped mushrooms, chopped onion in half rings, grated carrots.
Drive in the eggs and mix. Add salt and pepper to taste.
It remains to add the grated cheese and fry for another 30-40 seconds.
Mix the frying with rice. Minced meat is ready!
Cut off the fins of the squid. We stuff the carcasses not very tightly. We cut out triangular "ears" from the fins and insert them into the slots made in the carcasses. We make the eyes from black peppercorns.
We spread the piglets on a greased baking sheet and grease the squid stuffed with mayonnaise.
We put the stuffed squid in a preheated oven for 10-15 minutes at a temperature of 150 degrees.
The squid pigs are ready!
Also Like
Comments for "Squid Pigs (Stuffed Squid)"