Stuffed Squid Carcasses
by Editorial Staff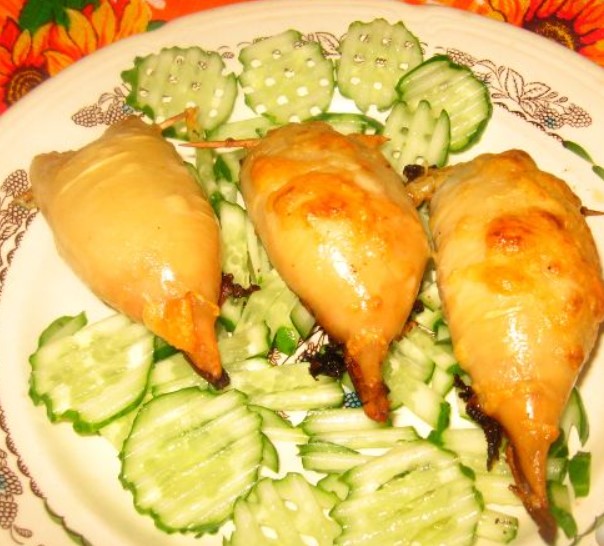 Finally, I decided to cook stuffed squid. The filling for squid is made from mushrooms, rice, eggs and vegetables. Delicious)))
Servings: 8
Ingredients
Squid (defrosted carcasses) – about 3 pcs.
Boiled rice – about 2 small handfuls
Canned champignons – 1 can
Boiled eggs (hard boiled) – 2 pcs.
Bulb onions (large) – 1 pc.
Carrots – 1 pc.
Mayonnaise
Cheese
Seasoning (optional)
Directions
Make the filling. To do this, boil rice (just a little). Fry chopped onions and carrots in a pan. Then add the mushrooms, seasonings, remove from heat, crumble the egg and mix everything.
Defrost the squid carcasses, remove the film from them, throw in boiling salted water for 2-3 minutes. Stuff the squids loosely with the prepared filling, secure with a toothpick, put in a baking dish.
Drizzle squid carcasses with mayonnaise and sprinkle with grated cheese on top. Bake the stuffed squid in an oven preheated to 200 degrees for about 10-15 minutes.

You can serve stuffed squid with a sauce that matches fish dishes.
Cross-section of stuffed squid.
Bon appetit!
Also Like
Comments for "Stuffed Squid Carcasses"