Squid Stuffed with Cottage Cheese and Shrimps
by Editorial Staff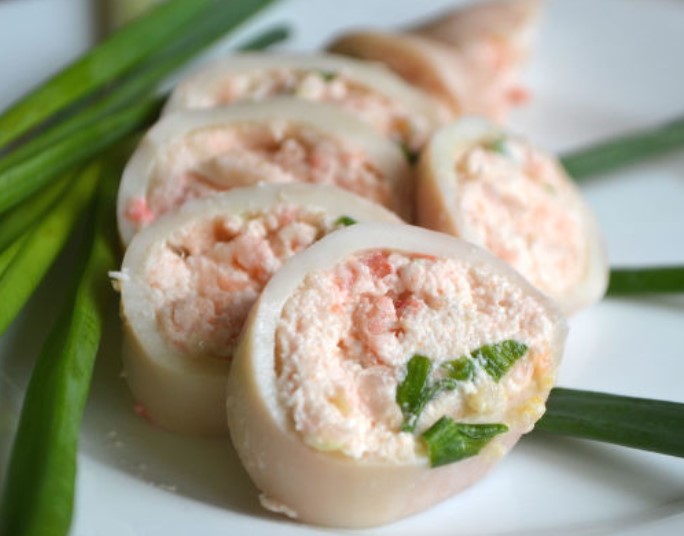 Squid stuffed with cottage cheese and shrimps is a very tasty and tender dish. This recipe will decorate any festive table and pleasantly surprise guests.
Ingredients
Squids – 3 pcs.
Cottage cheese – 400 g
Shrimps – 200 g
Garlic – 3 cloves
Salt to taste
Green onion – 3 feathers
Paprika – 1 teaspoon
Mayonnaise – 2 tbsp
A mixture of ground peppers – 1 teaspoon.
Directions
We prepare products for squid stuffed with shrimps and cottage cheese.
Peel the garlic and cut into small pieces. Wash green onions and chop finely.
Combine cottage cheese with mayonnaise. Mix thoroughly.
Add garlic, green onions and a mixture of ground peppers to cottage cheese with mayonnaise.

Cook the shrimps in salted water for 5 minutes. We clean the cooled shrimp from heads and shells, cut into slices. Add shrimp to cottage cheese, mayonnaise, garlic and green onions.
Sprinkle the filling with paprika and salt to taste.
We clean the squids from the upper film, from the viscera and inner chitinous plates. Put the carcasses in boiling salted water and cook the squid for 4 minutes. Pour the finished squid with cold water and put in a colander so that the excess liquid is glass.
Firmly stuff the squid carcasses with the filling. We put the squid in the refrigerator. Squid stuffed with shrimp and cottage cheese are ready.

Before serving, cut the stuffed squid in portions.
Bon appetit!
Also Like
Comments for "Squid Stuffed with Cottage Cheese and Shrimps"