Eggplant Stuffed with Cottage Cheese
by Editorial Staff
A very tasty and satisfying dish – stuffed eggplant baked with a filling of cottage cheese, hard cheese and mozzarella cheese.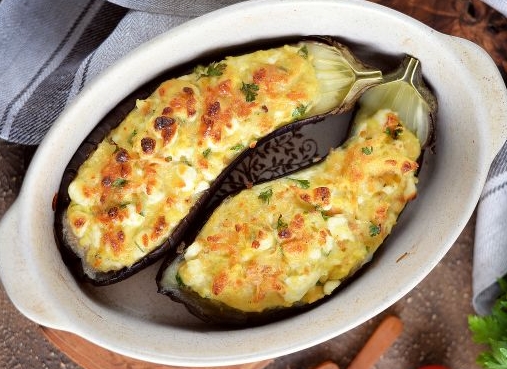 Cook: 50 mins
Servings: 2
Ingredients
Large eggplant – 1 pc.
Cottage cheese – 70 g
Hard cheese – 70 g
Mozzarella cheese – 70 g
White bun (bread) – 50 g
Egg – 1 pc.
Garlic – 1 clove
Milk – 100 g
Parsley (or basil) – a few sprigs
Salt to taste
Ground black pepper – to taste
Directions
To prepare stuffed eggplant with cottage cheese and cheese, prepare the foods on the list. Wash and dry the vegetables.

Cut the loaf into small pieces, fill it with milk, leave for a while. When the loaf is completely soft, squeeze out the excess milk.
Fold the cottage cheese, coarse grated hard cheese and mozzarella into a deep bowl.
Wash the greens, dry, chop finely with a knife, add the greens to the filling.mAdd the loaf and egg. Salt and pepper the filling, add the garlic passed through a press, mix.
Cut the eggplants in half lengthwise, put in boiling salted water and cook for 10-15 minutes. When the vegetables are completely soft, discard them in a colander.
Scrape the eggplant pulp, chop it, add to the filling, stir. Fill the eggplant boats with cheese.
Preheat the oven to 180 degrees, put the stuffed eggplant in it and bake under the top grill for 20-25 minutes.

Serve the prepared stuffed eggplant with cottage cheese and cheese as a hot snack immediately after cooking.
Bon Appetit!
Also Like
Comments for "Eggplant Stuffed with Cottage Cheese"