Eggplant Rolls with Cottage Cheese and Tomatoes
by Editorial Staff
Eggplant rolls with cottage cheese and tomatoes are eaten instantly! Cook more immediately! For those who like to have a snack with benefit and taste! Preparing quickly and easily! Try it! 🙂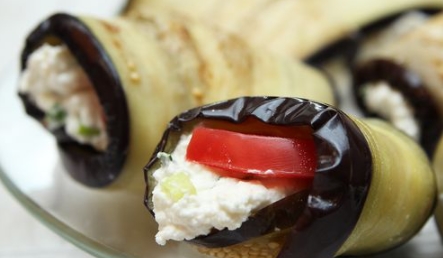 Ingredients
Eggplant – 2-3 pcs.
Cottage cheese – 200 g
Sour cream – 2-3 tbsp
Tomatoes – 1 pc.
Garlic – 1-2 cloves
Green onion – 1 pc.
Salt to taste
Vegetable oil – for frying
Directions
Cut the eggplants into slices and leave them in salted water for 10 minutes so that bitterness comes out of them.

At this time, we prepare the curd filling, namely, we mix the curd with garlic, sour cream and green onions. Add salt to taste.

Cut the tomato into rather large slices.
Fry the eggplants in a drop of vegetable oil, or you can even stew them in a pan with the addition of water, so the dish will turn out to be dietary.
Cool the finished eggplants and make rolls from them. Put the curd filling and a slice of tomato on the edge of the eggplant, gently roll it into a roll.
Eggplant rolls with cottage cheese and tomatoes are ready.
Bon Appetit!
Also Like
Comments for "Eggplant Rolls with Cottage Cheese and Tomatoes"