Baked Eggplant with Tomatoes and Cheese
by Editorial Staff
The baked eggplant for this recipe is somewhat reminiscent of mini pizzas. Juicy tomatoes, cheese, dried oregano and fresh basil leaves – this combination of ingredients can be found in almost every pizzeria as a filling. But in this case, the basis is not dough, but baked eggplant circles. A tasty and satisfying dish that will serve as an excellent snack both on the daily menu and on the festive table. Simple, bright,and original!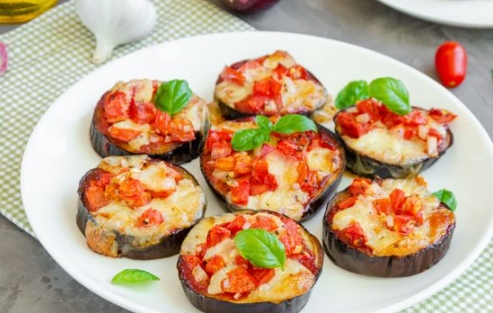 Servings: 5
Cook: 1 hour
Ingredients
Large eggplants – 600 g (2-3 pcs.)
Tomatoes – 250 g (3 pcs.)
Onions – 50 g (1 pcs.)
Garlic – 2 cloves
Hard cheese – 100 g
Olive oil – 4 tbsp
Tomato sauce – 100 g
Dried oregano – 1 teaspoon
Salt to taste
Fresh basil for serving – a few leaves
Directions
Cut large eggplants into slices about 1.5-2 cm thick.

Put them in a bowl and salt generously (about 1 tablespoon of salt without a slide). Mix thoroughly.

Pour over the eggplant with cold water, cover with a plate (so that the eggplant is completely covered with water) and leave for 15-20 minutes.
Preheat the oven to 200 ° C. Line a baking sheet with baking paper. Squeeze the eggplants out of the water and place on a baking sheet. Bake the eggplants in the oven for 15-20 minutes, until tender.
Prepare the filling.
Cut the cheese, tomatoes and onions into small cubes. Also chop with a knife or pass the garlic cloves through a press.
Add 2 tablespoon. tablespoons of olive oil, dried oregano and 1 pinch of salt, mix.
Remove the eggplants from the oven and brush each circle with the remaining olive oil with a brush.
Spread the tomato sauce on top in a thin layer.
Layout the prepared filling.
Return the baking sheet to the oven and bake the eggplant mini pizzas for about 10 minutes.
Baked eggplant with tomatoes and cheese are ready.
Garnish with fresh basil leaves before serving.
Bon Appetit!
Also Like
Comments for "Baked Eggplant with Tomatoes and Cheese"