Eggplant Casserole with Tomatoes and Feta Cheese
by Editorial Staff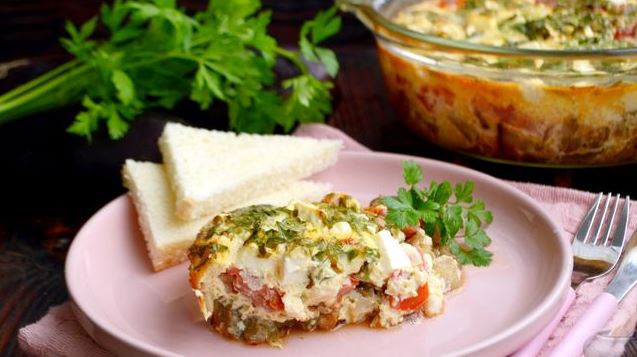 The recipe for eggplant casserole with tomatoes and feta cheese came to us from Bulgarian cuisine. The main ingredient of the casserole is vegetables under the egg and milk sauce. Greens and feta cheese make the dish more nutritious and tasty, instead of which you can use feta or goat cheese.
Cook: 20 minutes
Servings: 5
Ingredients
Eggplant – 500 g
Tomato – 150 g (1 pcs.)
Bryndza – 200 g
Milk – 150 ml
Eggs – 3 pcs.
Garlic – 2-3 cloves
Fresh parsley – 50 g
Vegetable oil – 3 tbsp
Salt – 0.5 teaspoon
Ground black pepper (a mixture of ground peppers) – 1/4 teaspoon
Directions
Rinse vegetables and herbs. Remove the cheese from the brine. Peel the garlic. Peel the eggplant with a knife or peeler. Cut the eggplants into cubes. Heat the vegetable oil in a skillet and add the eggplants.
Fry the eggplants over medium heat until soft and discolored, about 10 minutes. For the last 2 minutes, bring the eggplant until tender, covered.

Cut the tomatoes and feta cheese into cubes the same size as the eggplant. Chop the parsley finely with a knife. Chop the garlic with a knife or pass through a press.
Prepare the fill. To do this, combine milk, eggs, salt, and pepper mixture in a deep bowl. Whisk the filling lightly until smooth and the salt dissolves.
Turn on the oven to heat up to 180 degrees. Place the fried eggplants in a baking dish. Arrange the tomatoes on top. The next layer is cheese cubes. Place the chopped parsley and garlic on the cheese.

Pour everything with milk and egg filling and place the mold in an oven preheated to 180 degrees for 40-45 minutes. Eggplant casserole with tomatoes and feta cheese is ready. Cool casserole before slicing.
Cut the casserole into portions and place on bowls. Delicate and juicy eggplants combined with slightly salty creamy feta cheese is a great option for a light dinner for the whole family!
I recommend everyone to try this simple and tasty dish.
Bon Appetit!
Also Like
Comments for "Eggplant Casserole with Tomatoes and Feta Cheese"