Eggplant Casserole with Cheese
by Editorial Staff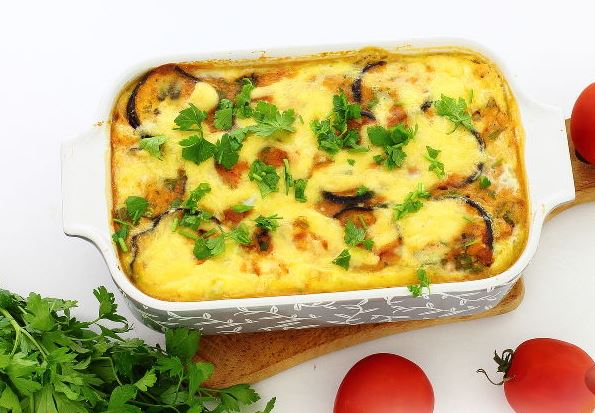 I offer a recipe for a delicious eggplant casserole with cheese. In the season of fresh vegetables, preparing such a dish is a snap. The casserole will complement homemade lunch, dinner, and will be appropriate for the festive table.
Cook: 1 hour
Servings: 4
Ingredients
Eggplant (large) – 3 pcs.
Fresh tomatoes (or canned in their own juice) – 400 g
Hard cheese – 50 g
Suluguni (or Adyghe) cheese – 300 g
Chicken eggs – 2 pcs.
Vegetable oil – 1-2 tbsp
Garlic – 4-5 cloves
Salt to taste
Ground black pepper – to taste
Parsley – 0.5 bunch
Directions
Rinse the eggplants and pat dry with a towel. Cut off the ponytails on both sides. Cut into circles, not very thin. Place on a baking sheet with parchment, prick with a fork. Drizzle with vegetable oil. Put in a hot oven for 10-15 minutes at 200 degrees, until soft.
If you have prepared tomatoes in their own juice, use them. If fresh, dip the tomatoes in boiling water for 30-40 seconds. Then rinse with cold water and remove the skin.
Cut the tomatoes into small pieces and send them to a saucepan. Pour 1-2 tablespoons of vegetable oil and add chopped garlic. Cover and simmer over low heat for 15-20 minutes.

Finally, add spices and herbs as desired. You can grind the tomato sauce with a blender. Grate Suluguni or Adyghe cheese on a coarse grater.
Fold some of the eggplants into a deep baking dish. Sprinkle with grated suluguni. Pour the sauce over. Alternate layers all the way to the top. Top with beaten eggs.

Sprinkle with grated hard cheese. Bake at 180 degrees for 15-20 minutes, until the cheese melts.
Eggplant, tomato, and cheese casserole are ready. Serve the vegetable casserole with cheese, sprinkled with fresh herbs.

Enjoy your meal!
Also Like
Comments for "Eggplant Casserole with Cheese"