Eggplant Casserole
by Editorial Staff
Eggplant casserole is prepared in tomato sauce with cheese.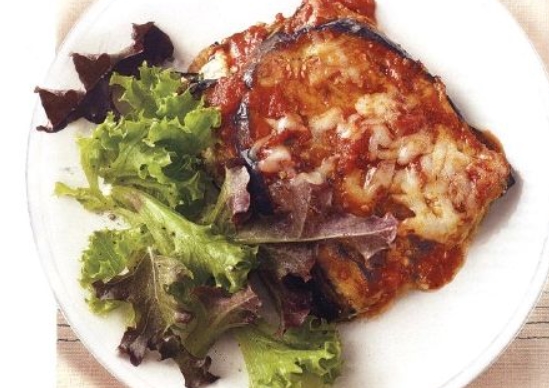 Cook: 50 mins
Servings: 4
Ingredients
Cream tomatoes (cut in half and seeded) – 250 g
Garlic – 1 clove
Olive oil – 4 tbsp
Salt and black pepper
Eggplants (cut into long slices) – 2 pcs.
Ricotta cheese – 1 glass
Large egg – 1 pc.
Fresh basil (chopped) – 1/4 cup
Parmesan cheese (shredded on a grater) – 1/4 cup
Lettuce leaves – 4 cups
Directions
Switch on the oven with top grill function for preheating. Put tomatoes and garlic in a bowl of a kitchen processor, pour 1 tablespoon of oil and add 1/4 teaspoon of salt and the same amount of pepper. Pulse until a homogeneous, puree-like mass is formed.
Brush the eggplant slices with the remaining oil and sprinkle with 1/2 teaspoon salt and 1/4 teaspoon pepper on all sides, and place on a baking sheet. Place the baking sheet under the grill and cook the eggplants for about 3-4 minutes, then turn over to the other side and cook for another 3-4 minutes.
Meanwhile, in a small bowl, combine the ricotta, egg, basil, 1/4 teaspoon salt and 1/4 teaspoon pepper.
Pour half the tomato sauce into a heat-resistant square dish about 20×20 cm in size, put 1/3 of the eggplant in the sauce, 1/2 of the cheese mixture on top. Put another 1/3 of the eggplant on top, on them the cheese mass, again the eggplant and the remaining tomato sauce. Sprinkle with chopped parmesan.
Place the dish with the vegetable casserole in the oven, preheated to 200 degrees, and cook the eggplant casserole for about 15-20 minutes. Allow the casserole to cool for 20 minutes before serving.
Serve the eggplant casserole with lettuce, sprinkle with 1/4 teaspoon salt and pepper. You can drizzle with olive oil.
Also Like
Comments for "Eggplant Casserole"