Zucchini and Eggplant Casserole
by Editorial Staff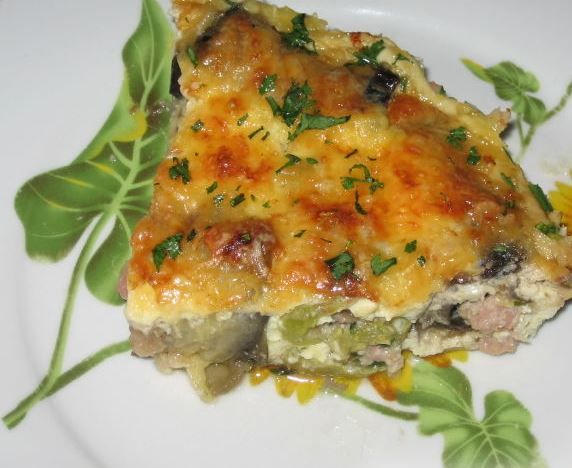 The casserole is delicious. Can be cooked from eggplant or zucchini alone. But I really like it when there are both.
Ingredients
Medium eggplants – 2 pcs.
Medium zucchini – 1 pc.
Boiled ham – 200 g
Champignons – 120-150 g
Onions – 1 pc.
Garlic – 2 cloves
Parsley – 2 tablespoon chopped spoons
Salt
Ground black pepper
Butter – 50 g
Eggs – 2
Sour cream 20% – 3 tbsp
Hard cheese – 100g
Flour for breading
Vegetable oil for frying
Directions
Cut eggplants and zucchini lengthwise into wide slices. Young vegetables do not need to be peeled. Dip the eggplants and zucchini in flour and fry in vegetable oil. It can be fried without flour but tastes better for a casserole with flour. Place on paper towels to absorb excess oil. Allow cooling. This can be done in advance.
Cut the ham into small cubes. Wipe the mushrooms with a damp cloth and cut into small cubes. Also, chop the onion finely. Press the garlic through a press. Chop the parsley finely. Grate cheese on a coarse grater.
Fry onions in butter, add garlic, mushrooms, and fry, stirring occasionally, for 7 minutes. Season with salt and pepper. Add ham and fry for another 5 minutes. At the end add half of the cheese and herbs (leave some herbs) and stir until the cheese is melted. The filling is ready.

Spread the fillings on the edge of the squash or eggplant slices on a spoon and roll.
Put the finished rolls in a single layer in a heat-resistant dish or baking sheet. From beaten eggs and sour cream, prepare the dressing and pour over the rolls.
Sprinkle with the remaining cheese on top. Cook the zucchini and eggplant casserole in the oven for 20 minutes at 180 ° C.
The cheese should be browned on top. Sprinkle the cooked casserole with the remaining herbs.
Zucchini and eggplant casserole is delicious hot and cold.
Bon Appetit!
Also Like
Comments for "Zucchini and Eggplant Casserole"