Zucchini and Eggplant Ragout
by Editorial Staff
In summer and autumn, recipes from zucchini, eggplant, and other fresh vegetables are especially popular. In warm weather, we eat much less heavy, fatty foods, and a light vegetable stew with zucchini and eggplant is the best choice for lunch.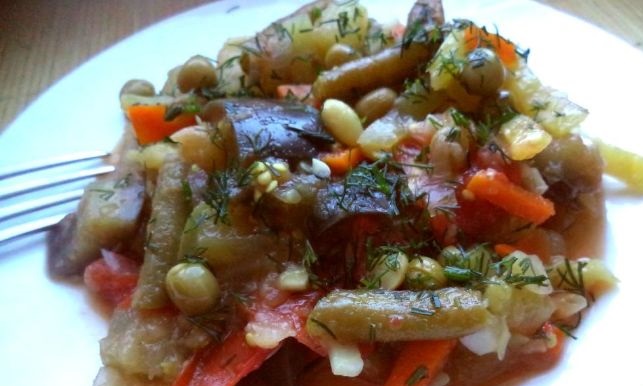 Cook: 40 mins
Servings: 4
Ingredients
Zucchini – 200 g
Eggplant – 200 g
Tomatoes – 200-250 g
Carrots – 150-200 g
Sweet pepper – 130 g
Green beans – 100 g
Canned green peas (or fresh) – 100 g
Bulb onions – 1 pc.
Garlic – 2 cloves
Parsley root – 1 pc.
Vegetable oil – 4 tbsp
Bay leaf – 1 pc.
Cinnamon – on the tip of a knife (to taste)
Cloves – 2-3 pcs. (taste)
Sugar – 0.5 teaspoon (to taste)
Salt – 0.5 teaspoon (to taste)
Directions
Wash the eggplants, cut them into large cubes.
Wash the zucchini, peel as desired, cut into large cubes.
Peel and wash onions, carrots, and parsley root. Cut the onion into large cubes, carrots, and parsley root into strips.
Wash the tomatoes, cut them into slices.
Wash the beans, cut off the tails. Cut into large pieces.
Wash the pepper, remove the seeds, cut into large strips. Peel the garlic, chop finely with a knife, or crush.
Pour beans and peas with cold water, bring to a boil, boil over medium heat (5-10 minutes).

Preheat a frying pan, pour vegetable oil into it. Prepared zucchini, eggplants, carrots, parsley root, onions put in hot oil. Lightly fry everything in oil, stirring occasionally, over medium heat for about 5 minutes.
Then pour in a few tablespoons of water or, if desired, meat broth (2-3 tablespoons). Add chopped tomatoes and bell peppers.
Season with salt, stir, and simmer covered over low heat until tender (10-15 minutes).
Next, combine boiled beans and peas with stewed vegetables, add sugar, crushed garlic, all the spices and simmer vegetable zucchini and eggplant stew for another 7-10 minutes.

Zucchini and eggplant stew is ready.
When serving the stew, sprinkle with chopped herbs if desired.
Bon Appetit!
Also Like
Comments for "Zucchini and Eggplant Ragout"