Plum Pastila
by Editorial Staff
Another marshmallow recipe for small and large sweet tooths. Plum pastila with nuts is a real delicacy.
Summary
| | |
| --- | --- |
| Prep Time | 30 mins |
| Cook Time | 6 hrs |
| Total Time | 6 hrs 30 mins |
| Course | Dessert |
| Cuisine | World |
| Servings (Default: 10) | |
Ingredients
Plums - 2 kg
Sugar - 1-2 kg
Gelling agent (pectin with citric acid) - 10 g (Zhelfix, Confiture, etc.)
The plum paste is air-dried for a long time - 2-3 weeks. To speed up the process, you can dry the marshmallow in a non-hot oven.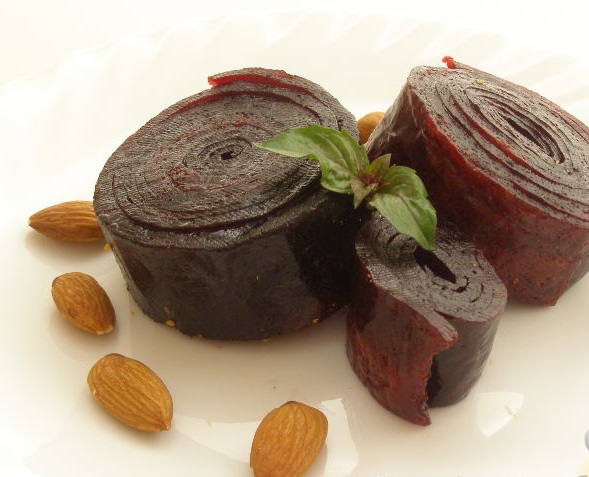 Directions
We take any plums.

Plum Pastila

Mine, remove the bones.

Plum Pastila

Grind in a meat grinder. I have an electric meat grinder - everything ground very easily and quickly, but you can do anything. You can also use a juicer, then after pressing, mix the juice and the "cake" (dry part). Can be ground with a blender if the volumes are small.
Add sugar to the mixture of juice and cake. The proportions may vary. The average proportion is 1: 1. But you can use a lesser quantity of sugar.
Add pectin (again, you can follow the instructions on the bag, or you can add less - the plums have their own pectin). Boil and stir for about half an hour.
We leave the mass. We prepare the surface on which we will dry the marshmallow. It can be a foil or thick oilcloth - for natural drying in the fresh air. You can also oven-dry the pastille. When the mass has cooled down a little, carefully distribute it over the surface. I decided to make the pastille thicker - the layer of mass was about 1 cm. Dry the marshmallow from the plums until tender. Pastila is considered ready when it can be removed and rolled up. My plum marshmallow remained a little sticky, although it dried for 3 weeks in the attic. But the plum marshmallow turned out to be softer than the previous one, apricot.
We detach the pastila from the surface on which it was dried, roll it up, and cut it. I like the thinner marshmallow rolls - they are more convenient, in size, like candy.
It is very tasty to eat marshmallows with nuts! So delicious that I will most likely fold the next one, sprinkling with crushed almonds or walnuts. But a bite is also possible.
Bon Appetit!
Also Like
Comments for "Plum Pastila"