Buns with Plums
by Editorial Staff
Butter buns made from yeast dough stuffed with juicy plums, decorated with lemon glaze, turn out to be very tasty and attractive.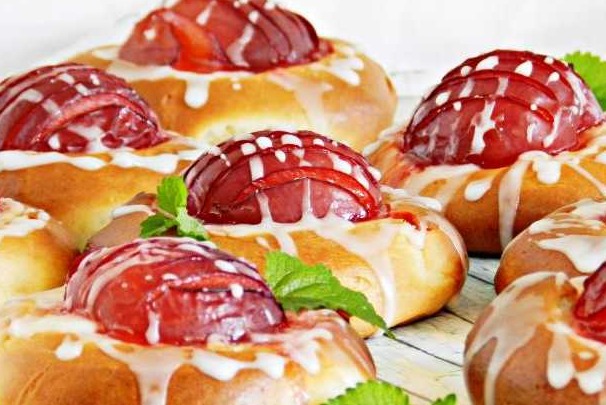 Ingredients
Plums – 5 pcs.
Milk – 250 ml + 2 tbsp for greasing buns
Butter – 50 g
Sugar – 4 tbsp
Salt – 0.5 teaspoon
Dry yeast – 1.5 teaspoon
Flour – 500 g
Baking spice sugar (or brown sugar or regular sugar) – 2 tbsp
For glaze:
Powdered sugar – 100 g
Lemon juice – 2-3 tbsp
Directions
To prepare the dough in warm milk, dissolve 2 tablespoon. tablespoons of sugar and salt. Add yeast and leave for 10 minutes to raise the "cap".
Melt the butter and grind with the remaining sugar.
Pour in the dough, mix.

Add flour to the dough in portions, stirring well each time so that there are no lumps. It is best to knead the dough with your hands and for a long time, but without applying "brute force", that is, you should not beat the dough like minced meat. Yeast dough prefers delicate handling, does not like drafts and loud sounds.
Thus, add all the flour (you may need a little more or less flour, depending on its properties). The dough should be soft, elastic, not sticky. Place the dough in a spacious bowl, cover with a towel or bag and put in a warm place for an hour.
After an hour, the dough will come up, that is, it will grow significantly. The dough needs to be kneaded with your hands and removed to a warm place for another half hour. These raising processes of yeast dough are important if you want to end up with perfect buns.
Wash the plums, cut in half, remove the seeds.
Divide the dough into equal parts according to the number of rolls and according to the size of the plums. Knead the dough into round cakes.
Leave on for 10 minutes.
Using a glass, make grooves for the filling in the cakes.
Pour sugar into the recesses. I used a fragrant mixture of sugar and baking spices (vanilla, cinnamon, etc.). You can use plain or brown sugar.
Put the halves of the plums on top of the sugar, cut them down, press them slightly into the dough. I had large plums, so I made cuts in them so that they baked better. If the plums are not large, you can skip this.
Brush the edges of the dough with milk.

Bake yeast buns with plums in an oven preheated to 190 degrees for 20 minutes. The dough should be browned. Transfer the finished rolls from the baking sheet to the wire rack.
Prepare lemon frosting. Pour the icing sugar into a bowl and add the lemon juice one spoon at a time, stirring immediately. You can make a thicker or thinner icing to taste.
Cover the cooled buns with plums with glaze.

Delicious homemade yeast dough buns stuffed with juicy plums and lemon icing are ready.
Bon Appetit.
Also Like
Comments for "Buns with Plums"