Fluffy Buns
by Editorial Staff
Sweet homemade buns with sugar. Awesome buns! The recipe is very simple and quick. The dough is like fluff, airy and soft!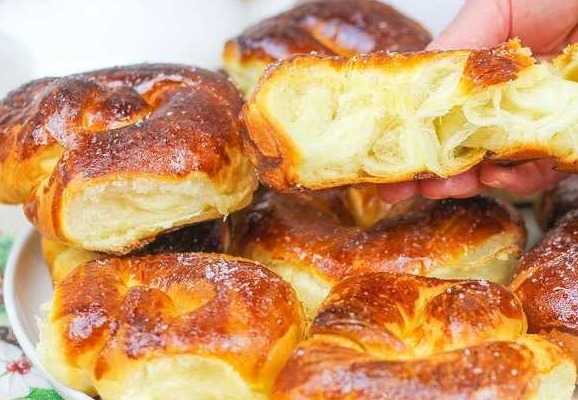 Ingredients
Warm milk – 150 ml
Water – 100 ml
Egg white – 1 pc.
Butter (softened) – 40 g
Dry yeast – 7 g
Wheat flour – about 500 g (+ for working with dough)
Sugar – 70 g
Salt – 1 teaspoon
Vanilla sugar – 1 teaspoon
To grease buns:
For sugar syrup:
Sugar – 2 tbsp
Water – 1 tbsp
Directions
In a bowl, combine warm milk, warm water, yeast, sugar. If you are unsure about your yeast, let it sit for 10-15 minutes for the yeast to work and bubble up.
Add egg white, vanilla sugar, mix well.
Add flour (450 g, you may need a little more), salt, mix with a spoon.
Then add soft butter and knead the dough. Knead the dough for 7 minutes. You can add another 50 grams of flour, no more. The dough is elastic and does not stick to your hands.
Cover the bowl with the dough with foil and leave warm for 1.5 hours, to rise.

The dough will enlarge, become airy and porous.
Lightly dust the table with flour and spread out the dough. Crumple, cut into small pieces. We form balls (12 pieces).
Cover with a napkin or foil and leave for 10 minutes.

Roll each ball of dough into a cake. Lubricate with soft butter.
We turn into a roll. We intertwine the edges of the roll with each other, fasten it well.
Grease the form with oil or cover it with parchment. We lay out the blanks in a mold at a short distance from each other.
Cover with a napkin and leave for another 30 minutes to rise.
Lubricate the buns with yolk. Carefully so that they do not fall off.
We bake buns in a preheated oven at 180 degrees for 25-30 minutes, until golden brown.

Cooking syrup: pour sugar into a saucepan, add water, stir, bring to a boil and remove from heat.
We take the finished buns out of the oven and grease them with hot sugar syrup.
We eat rosy homemade buns with milk or tea.
Bon Appetit! Enjoy cooking!
Also Like
Comments for "Fluffy Buns"