Pasta with Eggplant and Zucchini
by Editorial Staff
Pasta with eggplant and zucchini is a delicious, versatile dish. This pasta can be served cold or warm as a side dish or salad. For this dish, it is better to choose zucchini and eggplant small in size so that there are fewer seeds in them.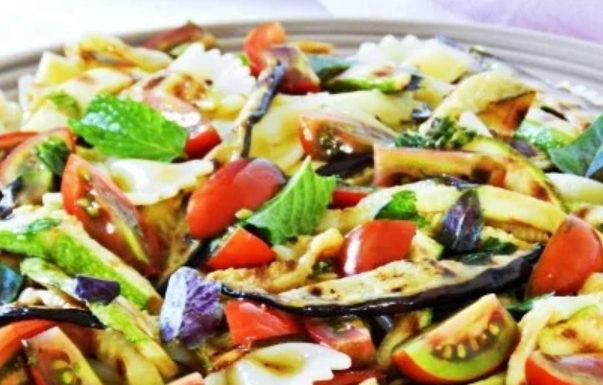 Ingredients
150 g of pasta farfalle (or other);
1 zucchini;
2 small eggplants;
a handful of small tomatoes (cherry or others);
2 sprigs of basil and mint;
vegetable oil.
For refueling
:
1 tablespoon. l. olive oil;
1 tablespoon. l. lemon juice;
salt, black pepper – to taste.
Directions
Wash the courgettes and eggplants.
Cut the eggplants into thin slices (up to 0.5 cm thick). Sprinkle with salt and leave for 10 minutes. Then rinse with running water and dry.
Also cut the courgettes into slices.
Fry the zucchini in a grill pan for 1-2 minutes on each side until they have characteristic stripes. In the process, salt. Vegetables for this dish can be fried in oil or without, at your discretion. I poured some vegetable oil into the pan.
Fry the eggplants in the same way. There is no need to salt the eggplants, they are already salted.
Cut the fried eggplants and zucchini into strips lengthwise.
Wash and dry tomatoes and herbs.
To prepare the dressing, mix olive oil with lemon juice and black pepper. Salt can be added to taste, provided that all the ingredients in the salad are already salty. If the eggplant and zucchini were fried without oil, you can increase the amount of oil in the dressing to your liking.
Combine the farfalle pasta and sauteed vegetables, add the tomatoes, cut into halves or quarters, and tear the mint leaves and basil with your hands. Fill the paste with dressing, mix gently.
Delicious pasta with eggplant and zucchini is ready.
Bon appetit, please your loved ones!
Also Like
Comments for "Pasta with Eggplant and Zucchini"