Saute with Eggplant and Zucchini
by Editorial Staff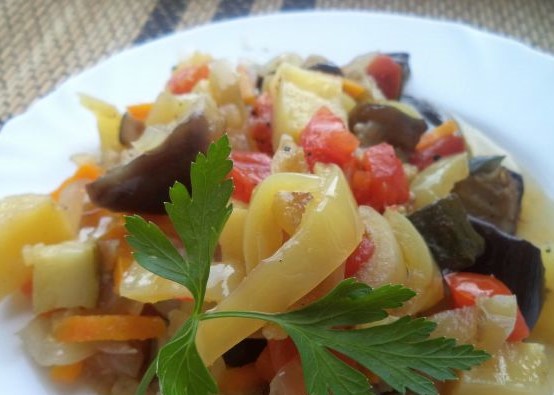 When vegetables are abundant, you just want to cook something light. Vegetable sautés with eggplant, zucchini, potatoes, bell peppers is a great dish for a feast day.
Ingredients
Eggplant – 500 g
Zucchini or zucchini – 500 g
Bulgarian pepper – 300 g
Potatoes – 300 g
Tomatoes – 300 g
Carrots – 300 g
Onions – 300 g
Vegetable oil – 50 ml
Garlic – 3-4 cloves
Sugar (optional) – 1 tbsp
Salt to taste
Ground black pepper – to taste
How to make sauté with eggplant and zucchini
Directions
Cut the eggplants into small pieces. Salt and stir. Leave on for 20 minutes.
Peel and dice the potatoes. Pour water in a saucepan, bring to a boil. Cook over low heat for 10 minutes.
Cut the zucchini into pieces.
Pepper, cut into strips or cubes.
Cut the tomatoes into cubes.
Peel the onions and carrots, cut into strips.
Preheat a frying pan, pour in vegetable oil (2 tablespoons). Fry the onions with carrots. Transfer to a cauldron.

Fry the zucchini separately over medium heat, stirring occasionally. Transfer to a cauldron.
Fry the peppers. Transfer to a cauldron.
Rinse the eggplants, squeeze, put in a pan. Add oil, fry, stirring occasionally. Transfer to a cauldron.
Put the potatoes in a colander and add to the rest of the vegetables.
Peel the garlic, chop finely or squeeze through a press. Add to vegetables.
Salt and pepper everything, you can add sugar. Mix.
Cook the vegetable sauté covered over low heat for 15-20 minutes.

Eggplant saute ready
Also Like
Comments for "Saute with Eggplant and Zucchini"