Vedarai (Lithuanian Potato Sausage)
by Editorial Staff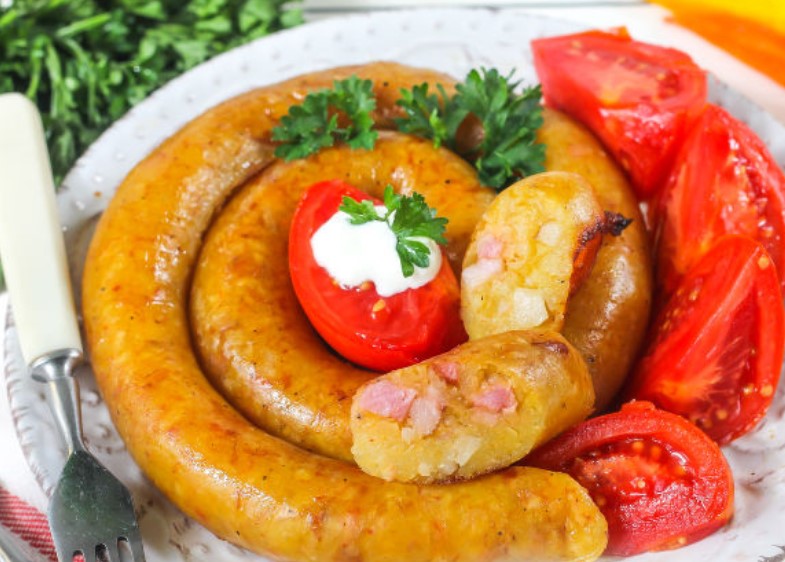 An incredibly tasty and satisfying dish called "Vedarai" - potato sausage with bacon, which you can serve with both mayonnaise and sour cream, for lunch or dinner.
Cook: 1 hour 30 mins
Servings: 4
Ingredients
Potatoes - 1 kg
Lard - 250 g
Bacon - 150 g
Onions - 1 pc.
Pork casings - 100-150 cm
Garlic - 2-3 cloves
Lemon juice - 1 teaspoon.
Salt - 0.5 teaspoon.
Ground black pepper - to taste
Directions
Prepare the required ingredients for the potato sausage.

Vedarai (Lithuanian Potato Sausage)

Peel the potatoes and onion by rinsing them immediately in water.
Soak pork casings in water and rinse them. If there are holes in them, then cut off this segment.
Pull the bowels on a special attachment on the meat grinder and tie their end. Be sure to pierce with a needle so that air comes out of the holes when stuffing the minced meat.
Dice the bacon, salmon, and onion.
Heat a skillet on the stove, put the chopped bacon on it, and fry on medium heat until golden brown. The fat will melt and form fat, so there is no need to pour vegetable oil into the pan
Add onion slices and sauté for another 4-5 minutes.
Then add the chopped bacon and simmer for about 3-4 minutes. Turn off the heating.
Grate the peeled potatoes on a fine grater or pass through a meat grinder using a fine-perforated nozzle. Pour lemon juice into the mixture and stir so that it does not darken. Leave it on for 10 minutes and drain off any excess liquid.
Add the frying to the potato mass and stir everything. Season with salt and pepper to taste. Peel the garlic cloves and pass them through a press into the mass.
Fill the prepared bowls with minced meat, but not tightly, otherwise the sausage will burst when baked. Expect it to double in size. Once you fill the bowels to the end, tie the end again.

Vedarai (Lithuanian Potato Sausage)

Grease the tin foil with vegetable oil or grease from a frying pan. Put the prepared sausage in it and send to the oven. Bake at 180 degrees for 45-50 minutes. After 10 minutes, pierce the entire workpiece with a needle in many places. Lubricate with grease.
Potato sausages with bacon are ready. Let the baked sausage cool by placing it out of the mold on a plate
After that, cut the vedarai into portions and serve with fresh vegetables, sour cream or mayonnaise.
Bon appetit!
Also Like
Comments for "Vedarai (Lithuanian Potato Sausage)"