Lithuanian Beetroot Fridge
by Editorial Staff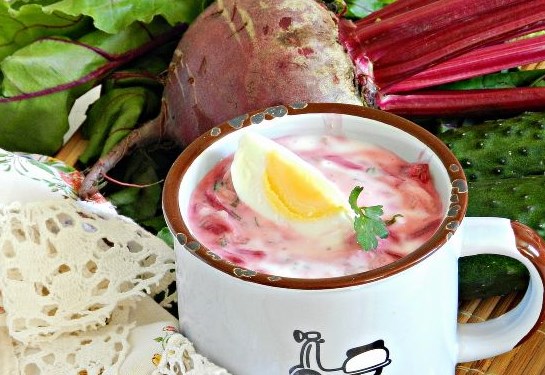 Lithuanian cold borscht (beetroot or cold beetroot) is an indispensable dish for hot days.
Servings: 4
Ingredients
Kefir (or yogurt) – 0.5-0.7 l
Beets – 2 pcs.
Eggs – 3 pcs.
Cucumbers – 2 pcs.
Green onions – 1/2 bunch
Fresh dill – to taste
Fresh parsley – to taste
Lemon juice – 1 teaspoon
Salt to taste
Ground black pepper – to taste
Directions
Prepare food for the Lithuanian cold room.

Boil the beets in advance until tender (about an hour), cool, and peel.
Boil eggs hard-boiled (8-9 minutes), cool, and peel.
Grate the boiled beets, pour over with lemon juice.
Grate boiled eggs.

Finely chop the dill, parsley, and green onion.
Peel the cucumbers and grate.

Combine all the chopped ingredients in a saucepan, season with salt and pepper to taste.
Pour cold kefir or unsweetened liquid yogurt. (If you don't have kefir or yogurt, you can add sour cream to the refrigerator, which, if necessary, dilute slightly with water.)

Before serving, the beetroot can be additionally cooled. You can serve cold Lithuanian borscht with boiled potatoes instead of bread.
Enjoy your meal!
Also Like
Comments for "Lithuanian Beetroot Fridge"