Lithuanian Dumplings (Virtiniai)
by Editorial Staff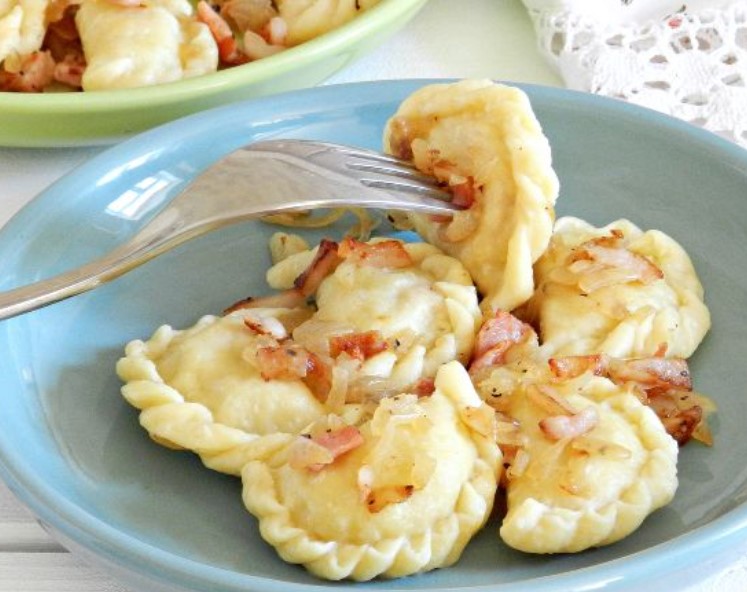 Lithuanian dumplings (virtiniai) turn out to be very tasty, at least a little unusual for us. For dumplings in Lithuanian, the dough is prepared on yolks and flour, without adding water. And the filling consists of raw potatoes and onions fried with bacon. Such dumplings are boiled a little longer, but they perfectly retain their shape and do not boil over.
Servings: 2
Ingredients
For the test:
Egg – 3 pcs.
Flour – 1 glass
Salt – 0.5 teaspoon
For filling:
Potatoes – 5 pcs.
Bulb onions – 1 pc.
Smoked lard – 50 g
Salt to taste
Ground black pepper – to taste
Directions
Prepare products for Lithuanian dumplings with potatoes.

Break 1 egg into a bowl and add 2 egg yolks. Season with salt and lightly beat
Pour flour in portions, stirring each time until smooth.
Knead a smooth elastic dough. The dough will be a little tight. Wrap it in plastic wrap and leave for 20-30 minutes, after which the dough will become a little softer.

Peel and finely grate raw potatoes.
Then squeeze the potatoes very well, almost until dry.
Cut lard and onions into cubes.
Fry bacon in a heated frying pan until golden brown. Then remove it from the pan.
Put the onion in the pan, salt, pepper and fry.
Combine lard with onion and fry together.
Add half of the onion fried with lard to carefully squeezed potatoes and mix. The filling for Lithuanian dumplings is ready.
Roll out the dough. The dough is pliable, rolls out easily, does not tear or stick to the table and rolling pin. Cut out circles or squares from the dough, which is more typical for these dumplings.
Put the filling on the dough circles.
Blind dumplings in the traditional way. If you have well-wrung potatoes for the filling, this shouldn't be a problem.

Thus, blind all the dumplings. For boiling dumplings, boil and salt water. Dip the dumplings in a saucepan, bring to a boil, reduce heat to medium and cook for 12-15 minutes until tender.
Arrange ready-made Lithuanian dumplings with potatoes on plates, sprinkle with the remaining onion fried with lard and serve hot.

Enjoy your meal!
Also Like
Comments for "Lithuanian Dumplings (Virtiniai)"