Lithuanian Cabbage Rolls
by Editorial Staff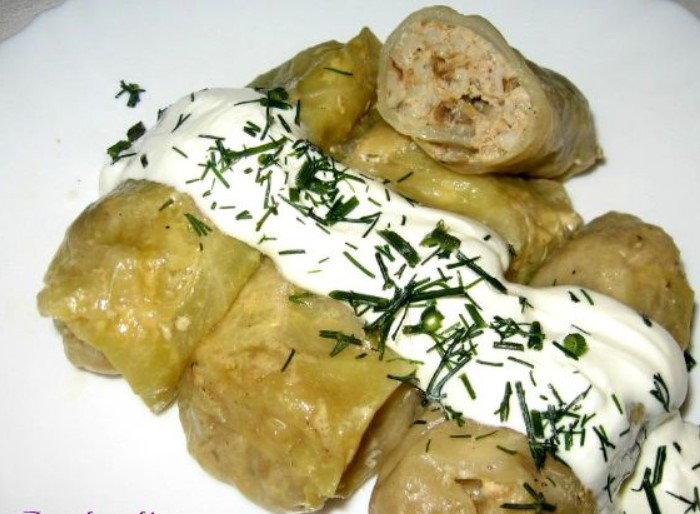 Delicious stuffed cabbage rolls with pearl barley, minced meat and mushrooms.
Ingredients
Dry white mushrooms – 50 g
White cabbage – 1 head
Pearl barley – 1 glass
Fresh lard – 50 g
Medium-sized onions – 1 pc.
Butter – 30 g
Eggs – 2 pcs.
Lean minced pork – 200 g
Sour cream – 150 g
Salt
Ground black pepper
Marjoram – a pinch
Sour cream for serving
Dill greens – 2-3 branches
Directions
Boil pearl barley until tender. It is better to soak it in advance for 2-3 hours. If you have not calculated the amount of water, then drain the excess water from the porridge.
Soak dry mushrooms and then boil. Remove the mushrooms, but do not pour out the broth. Chop the mushrooms finely.
Cut the onion into small cubes. Fry the onions in butter, add the mushrooms and fry them, stirring occasionally, for 5-7 minutes.

Chop the bacon finely.
Melt it in a frying pan. Remove greaves. Fry the pearl barley in the melted bacon for 7-10 minutes.
Stir in fried mushrooms and minced pork. Season with salt, pepper, add marjoram. Beat eggs and mix with filling. Then there are two ways to cook Lithuanian cabbage rolls: feather – traditional. Roll the filling into the prepared cabbage leaves. The second is to cut the cabbage into four parts, blanch and then put the filling between the cabbage leaves. I do not like stuffing whole cabbage, let alone slices, so I will cook normal cabbage rolls.
Put the filling in the prepared cabbage leaves (blanch and cut off the thickenings) and wrap in an envelope.
Place the cabbage rolls in a saucepan. Prepare the fill. To do this, mix the mushroom broth with sour cream, salt and pepper. Pour cabbage rolls. Simmer cabbage rolls over low heat until tender. The time depends on the cabbage, the size of cabbage rolls and can take up to 2 hours.

Pour the prepared cabbage rolls with sour cream and sprinkle with chopped dill.
Enjoy your meal!
Also Like
Comments for "Lithuanian Cabbage Rolls"