Potato Casserole with Sausages
by Editorial Staff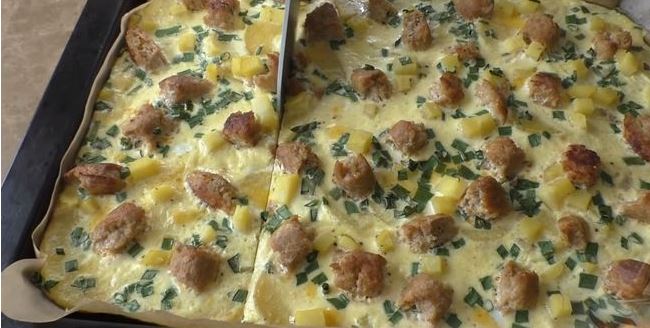 Good morning and good day! We have a great breakfast recipe today! It's easy to prepare, it turns out a lot! Enough to feed the whole family! Potato casserole with homemade sausages or sausages. Well, very tasty!
Ingredients
Boiled potatoes – 4-5 pcs.
Homemade sausages (or sausages) – 3-4 pcs.
Green onions – 1 bunch
Eggs – 4 pcs.
Cream, 10% fat – 200 ml
Salt to taste
Ground black pepper – to taste
Vegetable oil – for frying
Directions
It's good if you already have boiled potatoes. Then it will take a few minutes to prepare the potato casserole.
I have homemade sausages from turkey. Fry them lightly in a frying pan in a little vegetable oil. If you are using sausages, just peel them. Cut a part of the peeled boiled potatoes into thin slices.
Put the chopped potatoes in one layer on a prepared baking sheet covered with baking paper. We try to arrange the potatoes tightly. Distribute pieces of sausages from above. Cut the remaining potatoes into cubes. Finely chop the green onion. Preheat the oven to 200 degrees.
Spread the chopped green onions and diced potatoes evenly on the potatoes with sausages. Beat eggs lightly.

Add black pepper, salt, and cream to the eggs. Mix well. Gently pour the resulting egg mixture into the potatoes on a baking sheet. Cook potato casserole with sausages in the oven for 15 minutes.

Simple, fast, and delicious!
Also Like
Comments for "Potato Casserole with Sausages"