Potato Casserole with Sausages and Cheese
by Editorial Staff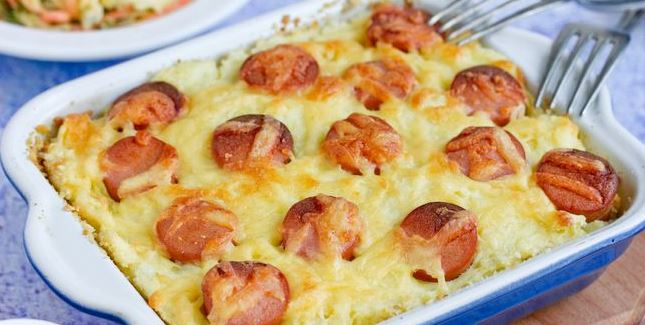 The mashed potato casserole with sausages and cheese is a hearty and elegant dish made from simple ingredients. For a family lunch – just a great option. Potato casserole with sausages is easy to cut into portions even hot, which greatly simplifies serving.
Cook: 20 mins
Servings: 4
Ingredients
Potatoes – 600 g (weight already peeled)
Sausages – 3 pcs. (200 g)
Hard cheese – 80 g
Egg – 1 pc.
Butter – 30 g + 1 teaspoon for greasing the mold
Bread crumbs – 1 tbsp
Salt to taste
Ground black pepper – to taste
Directions
Peel, wash, cut the potatoes into small cubes or freeform slices. Transfer the potatoes to a saucepan.
Pour potatoes with cold water (600 ml), put on high heat. Bring water to a boil.
Reduce heat, add salt water, and set aside potatoes to cook.
When the potatoes are cooked (after 15-20 minutes), drain the water from it. Mash the potatoes in mashed potatoes.
Add a raw egg, butter, and black pepper to the mashed potatoes. Grate hard cheese on a coarse grater. Add 50 g of grated cheese to the potatoes.

Stir the flavored mashed potatoes quickly.
Turn on the oven and preheat to 180 degrees. Grease a baking dish with butter, bottom, and sides, and sprinkle with breadcrumbs.
Put the mashed potatoes in the prepared form, smooth its surface.
Peel the sausages and cut into pieces about 2-2.5 cm long.
Place the sausage slices in the mashed potatoes dish, pressing lightly.

Sprinkle the sausage puree with the remaining grated cheese.
Bake mashed potatoes with sausages in the oven at 180 degrees for 25 minutes.
The potato casserole with sausages is ready. Serve hot as a main course for lunch. Additionally, offer a salad of fresh vegetables or pickles.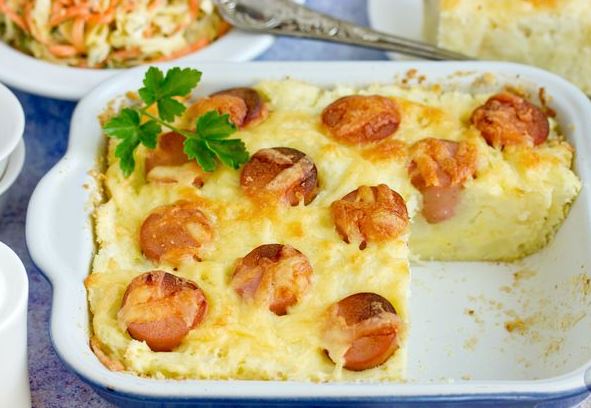 Enjoy your meal!
Also Like
Comments for "Potato Casserole with Sausages and Cheese"