Potato Casserole with Smoked Sausages
by Editorial Staff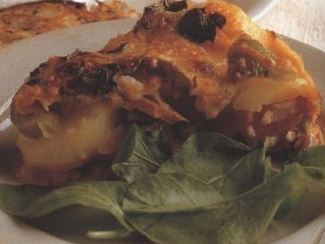 Potato casserole – a recipe in which spices are impeccably selected. This potato casserole turns out to be very tasty and aromatic.
Servings: 4
Ingredients
Vegetable oil 1 tbsp
Onions (cut into thin strips) – 1/2 pc.
Bulgarian pepper, green (peeled from seeds and cut into thin rings) – 1 pc.
Garlic (peeled and minced) – 1 clove
Tomato (diced) – 1 pc.
Black olives, pitted (finely chopped) – 6 pcs.
Boiled potatoes (sliced) – 280 g
Smoked sausages (cut into thin strips) – 230 g
Chili green (seeded and finely chopped) – 1 pc.
Cheddar cheese (shredded) 50 g (1/2 cup)
Eggs – 6 pcs.
Milk – 45 g (3 tablespoon. L.)
Ground cumin – 1/4 teaspoon
Dried oregano – 1/4 teaspoon
Paprika – 1/4 teaspoon
Salt and black pepper to taste
Arugula (arugula) for serving
Directions
Turn on the oven to preheat to 190 degrees. Cover a round heat-resistant form with a diameter of about 23 cm with parchment.
Heat vegetable oil in a large skillet over medium heat. Pour chopped onions, green peppers, and garlic into the pan, cook, stirring occasionally, until vegetables are soft, about 5-8 minutes.
Put the mixture from the pan into the prepared dish, along with the tomato, olives, potatoes, sausages, and chili. Mix everything well and sprinkle with chopped cheese on top.
In a small bowl, beat eggs and milk. Add cumin, oregano, paprika, salt, and black pepper. Pour this mixture into an ovenproof dish with vegetables.
Place the dish in the oven and bake for about 30 minutes, until golden brown. Serve the potato casserole with arugula (arugula).
Also Like
Comments for "Potato Casserole with Smoked Sausages"