Omelet Casserole with Potatoes and Smoked Meats
by Editorial Staff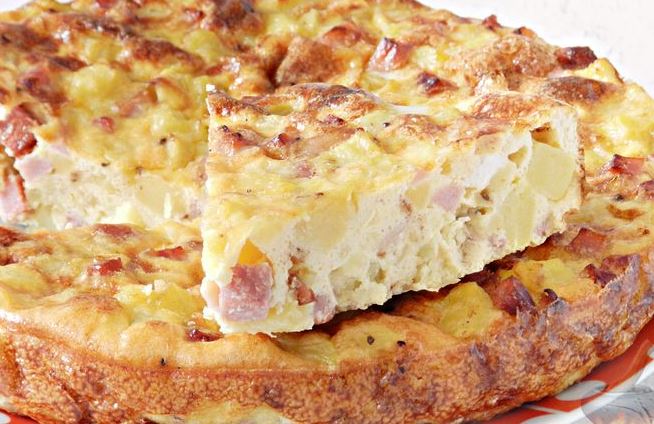 Unpretentious country breakfast of eggs, boiled potatoes, and various types of smoked meats – a casserole or an omelet in the oven. Delicious and satisfying dish.
Ingredients
Potatoes – 370 g
Ham – 150 g
Smoked sausage – 50 g
Cooked-smoked brisket – 80 g
Eggs – 3 pcs.
Sour cream – 2 tbsp
Salt to taste
Ground black pepper – to taste
Vegetable oil – for frying
Direction
Boil the potatoes in their skins (the cooking time of the potatoes depends on the variety, about 25 minutes) or use previously cooked potatoes. Cool and peel boiled potatoes
Cut the peeled potatoes into small cubes.
Cut the ham, sausage, and brisket into small cubes.
Fry the ham, sausage, and brisket. If the brisket is greasy, you do not need to use oil for frying.
Use a slotted spoon to transfer the sausage, ham, and brisket to a baking dish.
In a frying pan, fry the potatoes with the remaining fat until they are lightly crusty. Salt.

Place the fried potatoes in a baking dish, stir with meat products. Turn on the oven to heat up to 190 degrees.
Break eggs into a bowl, add sour cream.
Stir eggs with sour cream, salt, and pepper to taste.
Pour the smoked potatoes with the egg-sour cream mixture. Shake the mold to distribute the mixture evenly.

Cook the omelet casserole in the oven at 190 degrees for 20 minutes, until golden brown.
A delicious rustic breakfast – potato casserole or an omelet with potatoes and smoked meats – is ready.
Enjoy your meal!
Also Like
Comments for "Omelet Casserole with Potatoes and Smoked Meats"