Casserole with Potatoes, Peppers and Sausages (in a Pan)
by Editorial Staff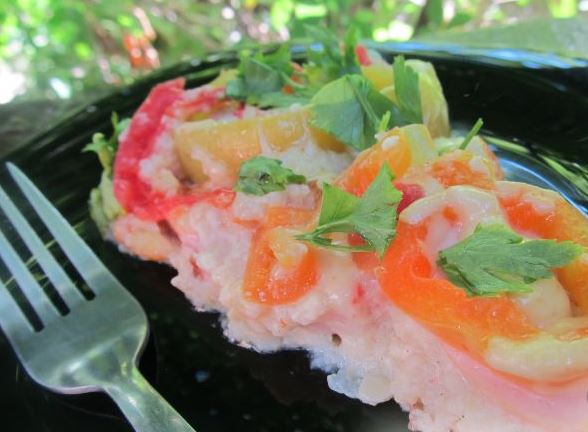 There are situations when it is not possible to cook in the oven. In the heat, I do not want this excessive heat that comes from it. A casserole is a pan that will help diversify your diet. It turns out to be very tasty. Potato casserole with fresh bell pepper looks very appetizing.
Ingredients
Potatoes – 200 g
Wheat flour – 50 g
Sausages – 150 g
Eggs – 2 pcs.
Hard cheese – 100 g
Tomatoes – 100 g
Fresh Bulgarian pepper – 120 g
Greens – optional
Salt – about 7 g (adjust the amount to taste)
Ground allspice – to taste
Sunflower oil – to taste
Directions
Boil potatoes until half cooked. We are waiting for it to cool down a bit, rub it on a grater.
Add salt and pepper to a saucepan with grated potatoes, mix. We drive in eggs. Add flour.

After stirring, we have an excellent casserole base. You can try it to see if it's worth adding alt. Add vegetable oil to the base. We mix. We spread the potato and egg base in a pan.
We cut our sausages into circles and lay them out, dipping them into this potato-egg base. Spread the halves of the tomato slices evenly on the sausages. Cut out the core of the pepper, cut into rings. Lay the bell pepper rings over the tomatoes.

Close the lid and simmer over very low heat. We periodically look under the cover. When the edges begin to become toasted, rub the cheese. We spread it over the pepper rings. Close again with a lid for 7 minutes.
Let it cool a little, divide it into plates, decorate it with herbs, distribute it to impatient household members.
Enjoy your meal!
Also Like
Comments for "Casserole with Potatoes, Peppers and Sausages (in a Pan)"