Potato Casserole with Cheese Sausages
by Editorial Staff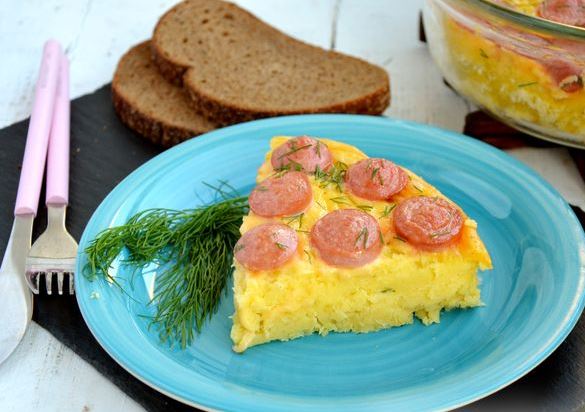 Potato casserole with cheese sausages is very simple to prepare. Thanks to childhood, the combination of potatoes and sausages is so familiar to us, and therefore delicious, that such a casserole will simply "fly away" from the family steel. Both the older and younger generations will be not indifferent to the appetizing simplicity of this dish.
Cook: 50 minutes
Servings: 4
Ingredients
Potatoes – 500 g
Sausages – 150 g
Hard cheese – 80 g
Eggs – 2 pcs.
Butter – 20 g
Ground black pepper – 0.1 teaspoon
Salt – 1 teaspoon
Fresh dill (for serving) – 1-2 branches
Directions
Peel the potatoes, wash and cut into large cubes.
Pour potatoes with potable water, add salt, and place them on the stove. Boil potatoes and cook for 15 minutes, until tender. Then drain and chop the potatoes with a potato press (pusher).
Add salt and black pepper to the mashed potatoes, mix again. Add the chicken eggs one at a time to the mashed potatoes.
The puree is smooth, viscous, and fluffy. preheat the oven to 180 degrees. Grease a baking dish generously with butter. Place the mashed potatoes in a baking dish and smooth the surface with a spatula.
Grate hard cheese on a coarse grater. Free the sausages from the shell, cut into slices 0.6-0.8 cm thick. Spread the hard cheese over the surface of the potato.

Place the sausage circles on top of the entire surface, slightly sinking them into the cheese and potatoes. Bake potatoes with sausages in an oven preheated to 180 degrees for 30 minutes.
The casserole will grow slightly in size and then drop again as it cools. Garnish the surface of the casserole with chopped fresh dill.
If the baking dish is pretty, serve the potato casserole with cheese and sausages on the table right in it. The casserole is perfectly cut with a knife into portioned pieces.
Hot potato casserole with your favorite sausages – well, very tasty!
Enjoy your meal!
Also Like
Comments for "Potato Casserole with Cheese Sausages"