Potato Casserole with Sausages Wrapped in Thin Slices of Cheese
by Editorial Staff
A potato casserole with sausages wrapped in thin slices of cheese is a simple but delicious restaurant dish. This casserole will become an alternative to the usual potatoes with sausage because it is prepared from the same ingredients. Both children and adults will like it!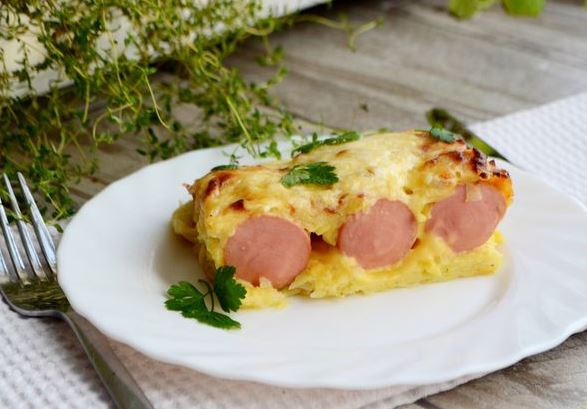 Cook: 40 mins
Servings: 4
Ingredients
Potatoes – 4-5 pcs.
Sausages – 6 pcs.
Processed cheese sandwich – 6 plates
Egg – 1 pc.
Bulb onions – 1 pc.
Hard cheese – 50 g
Sour cream – 3-4 tbsp
Vegetable oil – 1 tbsp
Salt – 1 teaspoon
Ground black pepper – to taste
Fresh parsley (or dill) – for decoration
Directions
Prepare all ingredients. If your baking container is larger, you can increase the number of potatoes – this will not change the taste of the casserole. Cut the onions into small cubes.

Wash the potatoes, peel, and grate with large holes. Combine chopped onions and potatoes in a bowl, beat in an egg, add salt and black pepper.
Turn on the oven to heat up to 220 degrees. Grease the baking containers with vegetable oil. Then the casserole will easily move away from the walls of the form after cooling.
Put half of the potato mass into a mold, spread over the entire surface. Free the cheese and sausages from the film. Wrap the sausages with slices of cheese.
Place the sausages in a mold on top of the potato layer. Cover with the remaining potatoes and flatten.
Bake potatoes with sausages in a preheated oven for 20-25 minutes, until golden brown. While the potatoes are baking, mix the sour cream with finely grated hard cheese.
Remove the dish from the oven. Spread the cheese and sour cream over the casserole. Bake in the oven for another 6-7 minutes. Cool the casserole slightly and cut into portions. Garnish each portion of the potato, sausage, and cheese casserole with fresh herbs such as parsley or dill.

Bon Appetit!
Also Like
Comments for "Potato Casserole with Sausages Wrapped in Thin Slices of Cheese"