Pickled Cherries (for the Winter)
by Editorial Staff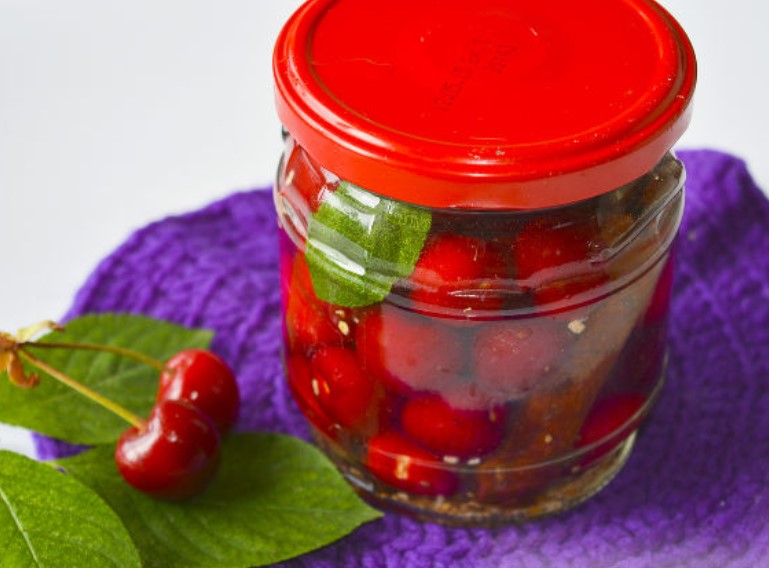 You can eat sweet cherries just like that, as well as preserve them for the winter. Cherries marinated in a spicy marinade will be in great demand in winter. The berries are very aromatic and unusual in taste.
Ingredients
Cherry – 1 kg
Cinnamon – 1 stick
Horseradish, dry root – 10 g
Mustard, seeds – 0.5 teaspoon
Coriander – 0.5 teaspoon
Cloves – 2 pcs.
Cherry leaf – 1 pc.
Vodka – 2 tbsp
Vinegar – 1 tbsp
Sugar – 2 tbsp
Salt – 1/3 teaspoon
Water (per liter jar) – 500 ml
Directions
Preparing ingredients for pickled cherries.
My cherries. The bones can be removed or not.
Cooking the marinade. Pour water into the ladle. Add vinegar.

We also add vodka there.
Add salt.
Then sugar. Mix the marinade well and bring it to a boil.
Put dry horseradish in a prepared clean jar.
Then a clove.
Then a cinnamon stick and the rest of the listed spices.

Spread the washed cherries on spices and fill it with marinade.
Put a cherry leaf on top.
We seal the jar with a cherry lid.
Store spicy pickled cherries in a cool place. After 2 weeks, the cherries are soaked and you can safely serve them to the table.
Bon Appetit
Also Like
Comments for "Pickled Cherries (for the Winter)"