Pickled Zucchini for the Winter
by Editorial Staff
How nice it is to open sealed jars with all sorts of goodies in winter. Then you don't need to come up with any snacks for the main dishes. Here's one of my favorite pickled zucchini recipes.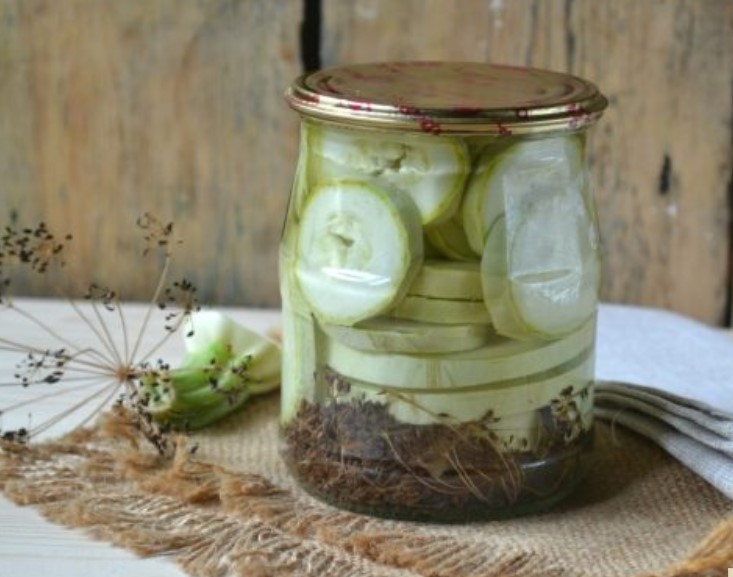 Cook: 2 hour
Servings: 20
Ingredients
Zucchini – 1 Kilogram
Dill Umbrellas – 3 Pieces
Garlic – 3 Cloves
Bay leaf – 2 pieces
Peppercorns – 4-5 Pieces
Water – 1 Liter
Salt – 1.5 Art. spoons (no slide)
Sugar – 2 Tbsp. spoons
Vinegar – 100 Milliliters
Directions
Prepare all the required ingredients. Rinse the zucchini under running water, and rinse the dill umbrellas.
Prepare the marinade first. To do this, pour 1 liter into a saucepan. cold water and add salt.
Then add sugar and put on fire. Bring to a boil, boil for 2-3 minutes. Then remove from heat and pour in vinegar immediately.
Cut the courgettes into 5 mm thick slices. I choose the youngest zucchini with bright green skin.
Put all the spices at the bottom of clean jars: dill, garlic, bay leaf and peppercorns.
Fold the zucchini into the jar as tightly as possible without breaking the circles.

Pour the hot marinade over the courgettes.
Place the jars in a deep saucepan with a thin towel or napkin on the bottom. Pour water into a saucepan until it reaches the waist of the jar. Put on fire and keep after boiling for 15 minutes.
Then roll up the jars, turn over and leave to cool at room temperature. The next day, the jars can be removed to the cellar or closet.
Bon appetit!
Also Like
Comments for "Pickled Zucchini for the Winter"