Sausages in a Potato "Coat"
by Editorial Staff
Unusual breakfast – fried sausages in a ruddy cheese-potato "coat". Quite simple products, a little time to prepare – and an appetizing, hearty and incredibly tasty dish is already on the table!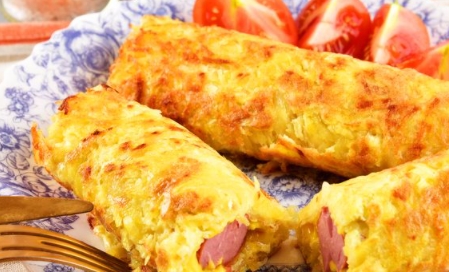 Cook: 25 mins
Servings: 2
Ingredients
We prepare products according to the list. You can use any sausages to your taste. If desired, the toasted cheese can be replaced with regular hard cheese.

Peel the potatoes and rub them on a fine grater. Sprinkle lightly with salt and stir.

Transfer the grated potatoes to a sieve, place them over a bowl and leave for about 5 minutes.
We clean the sausages from the factory shell and cut them crosswise along the length.
Heat the vegetable oil in a frying pan, layout the sausages and fry over medium heat for about 1-2 minutes on each side.
Then we transfer the sausages to a plate.
Combine eggs and salt in a bowl. Beat with a fork.
Squeeze the grated potatoes from excess liquid and divide them into two parts. Put half of the potatoes in a frying pan and spread over the bottom in a thin layer.
Pour half of the egg mixture on top and fry over low heat for about 5 minutes, until the egg grabs and the bottom is browned.
Then put 2 slices of cheese and a sausage on a potato tortilla.
Gently roll up the cake with a spatula so that the filling of cheese and sausage is inside.
In the same way, we collect and fry the second roll with the filling.

Unusual sausages in a cheese and potato "coat" are ready.
Bon Appetit!
Also Like
Comments for "Sausages in a Potato "Coat""