Meat Casserole with Eggplant
by Editorial Staff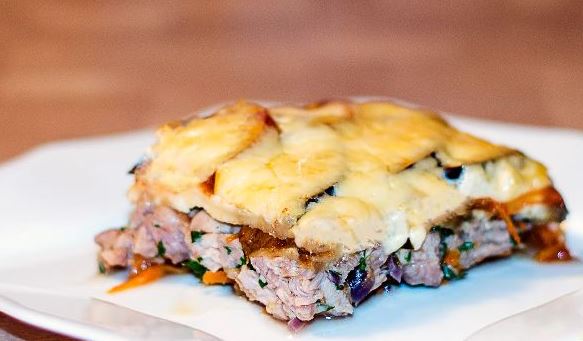 This is one of my favorite dishes, probably because I love both meat and eggplant, and their combination, which is covered with an appetizing cheese crust. I use minced chicken or turkey for the casserole, but you can use any minced meat.
Ingredients
Minced meat – 600 g
Eggplant – 1 pc. (about 300 g)
Tomatoes – 2-4 pcs.
Carrots – 1-2 pcs.
Bulb onions – 1 pc.
Garlic – 1 clove
Sour cream – 2 tbsp
Hard cheese – 150 g
Greens to taste
Salt to taste
Ground black pepper – to taste
Ghee butter (or any other fat) – for frying
Directions
Cut 2/3 of the eggplant into thin slices.
Cut the thick part of the eggplant into strips.
Salt the eggplant slices and rinse after half an hour.
Cut the tomatoes into slices. Cut the onion into strips, grate the carrots. Chop the garlic and herbs.
Fry the vegetables in a well-heated frying pan, adding them one by one. First, fry the garlic quickly. Then fry the onions. Then carrots and eggplants, cut into strips.

Place half of the fried vegetables in a greased dish.
Add the other half of the vegetables to the minced meat.
As well as salt, pepper, and herbs. Spread the minced meat on top of the vegetables.
Place the eggplant and tomato slices on the minced meat. Spread sour cream on top and bake in the oven at 180 ° C for 20 minutes.

Remove the dish from the oven and sprinkle the grated cheese on top of the minced vegetable casserole. Place the cheese casserole in the oven for another 20 minutes.
The eggplant casserole is ready.
Enjoy your meal!
Also Like
Comments for "Meat Casserole with Eggplant"