Eggplant Casserole with Cheese and Tomato Sauce
by Editorial Staff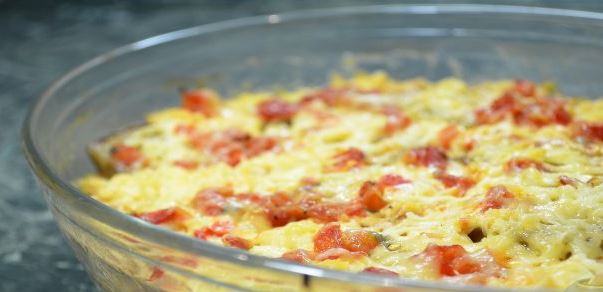 Despite the fact that it's already autumn outside the window, well, I really want to cook some kind of summer dish. And this dish will be an eggplant casserole with cheese and tomato sauce. The casserole is one of the simplest and most delicious dishes that can be easily prepared. The process of cooking eggplants in the oven will not take much of your energy, and the result will surpass all expectations.
Cook: 1 hour
Servings: 8
Ingredients
Eggplant – 700 g
Tomatoes – 700 g
Garlic – 1 clove
Hot red pepper – 1 pc.
Adyghe cheese – 300 g
Parmesan cheese – 200 g
Fresh basil – to taste
Olive oil – 3 tablespoons + for lubricating the mold
Salt to taste
Ground black pepper – to taste
Directions
Cut the eggplants into slices 0.5 cm thick. Then pour over the eggplants with salted water and leave for 20 minutes. Fry the squeezed eggplants in oil on both sides. Put them on a napkin.

The tomatoes must be blanched. Then chop finely. Finely chop the garlic. Chop hot peppers into small pieces. Grind the basil. Fry the garlic and pepper in oil for 30 seconds.
Add chopped tomatoes, basil, and simmer until tender. Season with salt and pepper to taste. Grate Adyghe cheese. Grate Parmesan cheese on a fine grater.

Put a layer of eggplant in a greased dish. Above – a layer of Adyghe cheese. Distribute the sauce. Cover with a layer of grated Parmesan. Repeat layers in this sequence until you run out of ingredients. There should be Parmesan on top.
We will bake in an oven preheated to 200 degrees Celsius for 40 minutes.
Eggplant casserole with cheese and tomato sauce is ready.
Bon, appetite and see you soon!
Also Like
Comments for "Eggplant Casserole with Cheese and Tomato Sauce"