Fettuccine in Tomato Sauce with Eggplant
by Editorial Staff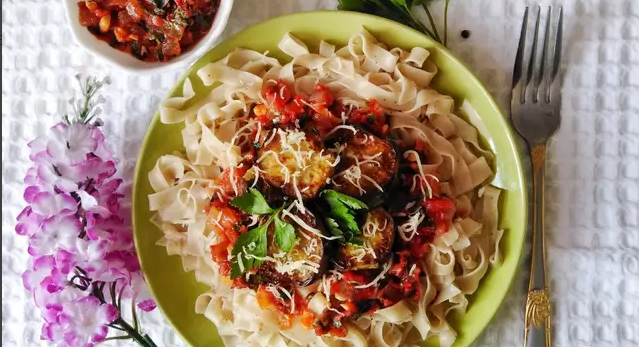 A quick lunch, which is perfect for vegetarians or on fasting days. I consider the presence of a good spicy cheese with an intense taste to be the peculiarity of this dish. It is he who gives the dish a wonderful piquancy. Not unimportant is the presence of fresh fragrant herbs, best of all cilantro and basil.
Ingredients
100 g fettuccine
250 gr. tomato
1 PC. onion
1 tooth. garlic
Greens (cilantro, basil, parsley)
1 PC. eggplant
20 gr. parmesan
Salt and pepper to taste
Directions
Peel the eggplant lightly and cut into slices. If the eggplants are bitter, sprinkle them with salt, leave for a while to give juice, and then rinse and dry with a paper towel.
Fry the eggplants in a dry skillet on one side. And then add a little oil and fry on the other side until a nice brown color. Salt to taste. Place the eggplants on a paper towel, although they are not very greasy.
Boil fettuccine in salted water. At the same time, while the pasta is cooking, fry the onion in a saucepan, in a little oil. Once it is slightly gilded, add the garlic and heat everything together for 2 minutes.
Add chopped tomatoes, they can be chopped in a blender, but I added in chunks. Sprinkle with dry basil, pepper and salt. Keep on fire for 5 minutes. Then add fresh herbs, mix and warm everything together for 5 minutes.
To serve, put fettuccine on a plate, pour over the sauce, put the eggplant on top, sprinkle everything with cheese and serve immediately.
Bon Appetit!!!
Also Like
Comments for "Fettuccine in Tomato Sauce with Eggplant"