Fettuccine Alfredo
by Editorial Staff
Fettuccine Alfredo (or fettuccine) is a pasta dish with butter, cheese and cream. We will add chicken fillet and vegetables to it. The author of the original recipe is the Italian restaurateur Alfredo di Lelio.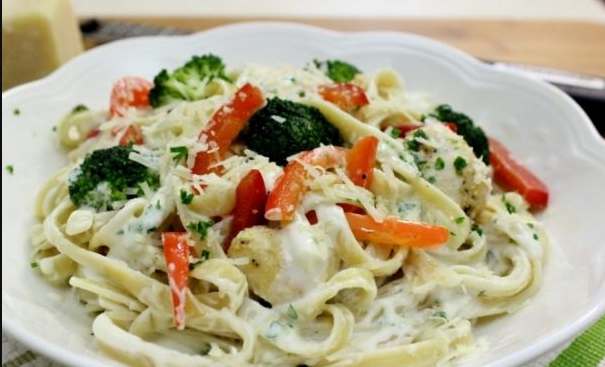 Ingredients
Fettuccine – 400 Grams
Chicken fillet (breast) – 4 Pieces
Bulgarian pepper – 2 Pieces
Broccoli (heads) – 2 Pieces
Fresh parsley – – To taste
Salt – – To taste
Ground black pepper – – To taste
Butter – 100-110 grams
Cream cheese – 100-110 Grams (Suitable: Mascarpone, Philpdelphia, Svalya, Almette)
Cream – 2 Cups (preferably fatty)
Grated hard cheese – 1 Glass (Parmesan)
Vegetable oil – 2-4 tbsp
Water – 1 / 8-1 / 4 Glass
Directions:
Place a pot of fettuccine water on the stove. Then cook them according to the instructions on the package. Cut broccoli into florets. Rinse the bell pepper and cut into strips.
Cut the chicken breast into cubes.
Heat vegetable oil in a skillet. When it starts to smoke, fry the chicken fillet. Season with salt and pepper. Fry the fillets for 2-3 minutes on each side. It should be white and gold.

Place the chicken on a plate under the lid to keep warm. Add some more vegetable oil to the same pan and fry the bell peppers for 3-5 minutes. Then add to the chicken.
Put broccoli inflorescences in the pan in which the bell peppers were fried, fry for 2-3 minutes. Then add some water, cover and sweat a little.
In a saucepan, combine butter, cream cheese and cream. Heat over medium heat until the oil dissolves. Stir and remove from heat.
Add the grated Parmesan. Stir until the cheese is dissolved. Season with salt and pepper to taste.
Mix the finished fettuccine with the sauce.
Place the fettuccine, chicken pieces, broccoli and bell pepper on a serving plate. Sprinkle with grated cheese and pepper with freshly ground black pepper.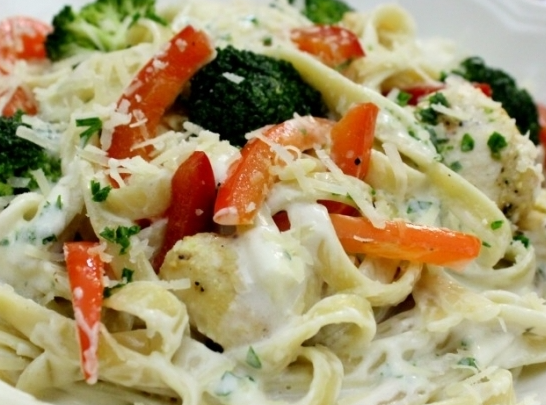 Bon Appetit!
Also Like
Comments for "Fettuccine Alfredo"