Fettuccine Alfredo with Mushrooms
by Editorial Staff
Unusually tasty and aromatic Italian Fettuccine pasta with mushrooms, in a delicate Alfredo sauce that literally melts in your mouth. This is a restaurant-worthy dish that you can prepare at home.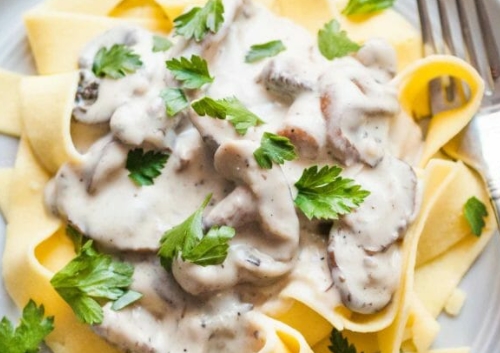 Servings: 4 CooK: 45 mins
Ingredients
young champignons: 230 gr
young shiitake mushrooms: 230 gr
melted butter: 1/4 cup
salt: 1/2 teaspoon
ground black pepper: 1/2 teaspoon
wheat flour : 3 tablespoons
milk: 2 cups
grated parmesan cheese: 1 1/2 cups
fettuccine pasta: 450 gr
fresh parsley: 1/4 cup
Directions
Melt butter in a skillet over medium heat. Add the chopped mushrooms and simmer for 6 to 8 minutes, until they release the liquid and become tender. Season with salt and pepper.

Add flour to skillet and stir to coat mushrooms. Cook for a minute and reduce heat to low.
Add milk while stirring slowly; flour will dissolve in milk. If any lumps form, break them up with the back of the spoon. Simmer for 1-2 minutes until the sauce thickens, then add the Parmesan cheese. Reduce heat, cover, and keep warm until tender, up to 10 minutes. If the sauce is too thick, add a little milk to dilute it again before you are ready to serve.

Bring a large saucepan of salted water to a boil and cook the pasta until tender. Drain and set aside.
Divide the pasta between bowls and top with a generous helping of sauce. Garnish with fresh parsley and serve.
Enjoy!
Also Like
Comments for "Fettuccine Alfredo with Mushrooms"