Alfredo Mushroom Sauce
by Editorial Staff
Of course, I can't say that I cook this sauce very often, but sometimes it can be prepared for a change. Alfredo sauce can be combined with various vegetables, today we will prepare this sauce with mushrooms, mushrooms give the sauce a brighter, more intense taste. The prepared sauce can be used to make pasta or simply pour this sauce over meat and even fish dishes.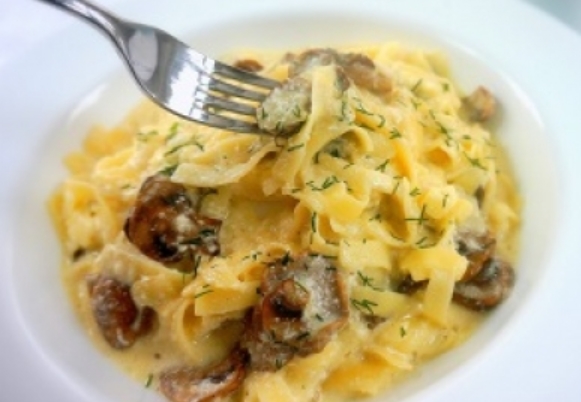 Ingredients
400ml whipped cream or full-fat milk
60g cream cheese
100 g butter
3/4 teaspoon parmesan cheese
1/2 teaspoon ground black pepper
1/4 teaspoon salt
1 teaspoon garlic powder
450g mushrooms, champignons, chopped
Pasta of your choice
Directions
To prepare Alfredo's mushroom sauce, take a small saucepan, put butter cut into small pieces into it, add heavy cream and cream cheese. Put the saucepan over medium heat and stirring constantly, cook until smooth, so that butter, cheese and cream are one whole.
Then add 3/4 cup of grated Parmesan cheese, 1/2 teaspoon of black pepper, 1/4 teaspoon of salt, 1 teaspoon of garlic powder to this mixture. While stirring, continue to cook over low heat, about 15 minutes.
Meanwhile, heat a small amount of butter in a frying pan and fry the chopped mushrooms. Season them with salt and stirring often, fry until brown. We send the fried mushrooms to the saucepan with sauce. Stir, season with salt and pepper to taste and remove from heat after 10 seconds. Boil the pasta according to the instructions and mix with Alfredo sauce. Serve hot.
Bon Appetit!
Also Like
Comments for "Alfredo Mushroom Sauce"