Chicken Alfredo
by Editorial Staff
Chicken Alfredo is a wonderful Italian-style chicken dish. It is very colorful, fresh, tasty and of course beautiful.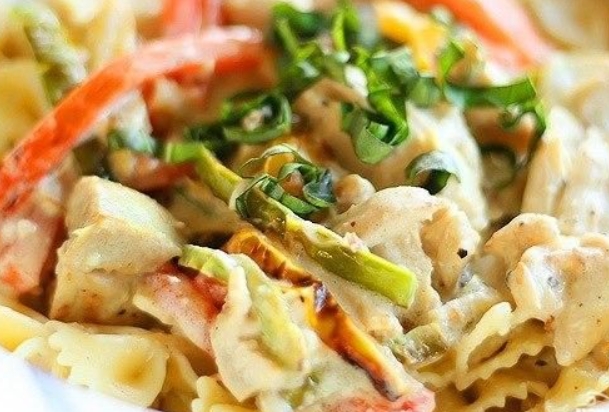 Servings: 3-4
Cook: 55 mins
Ingredients
Pasta bows – 250 Grams
Chicken broth – 1 Liter
Boiled chicken breast – 1 Piece
Garlic – 1 Clove
Red bell pepper – 1 Piece
Green bell pepper – 1 Piece
Yellow bell pepper – 1 Piece
Grated Parmesan – 0.5 Cups
Basil – 6 Cloves
Directions
Cut red, green, yellow peppers into thin strips.
Boil the breast. Leave the broth to prepare the pasta and Alfredo sauce. The pasta should be boiled in chicken broth (as usual), salting it.

Alfredo sauce is prepared like this: heat 3 tablespoon. tablespoons butter and half a cup of chicken stock in a saucepan over medium heat until the butter is melted. Then add garlic (chopped), a teaspoon of salt, pepper, and half a glass of grated Parmesan cheese. Cook, stirring occasionally, for about 5 minutes.

Next, add olive oil to a frying pan, put red, yellow, green peppers, fry them over medium heat for about 6 minutes, then add diced chicken fillet pieces, mix, pour over the sauce and keep on fire for about 5 minutes. Next, spread the paste in portions on plates and cover them on top with chicken, peppers, and sauce. Done!
Enjoy!
Also Like
Comments for "Chicken Alfredo"