Homemade Alfredo Pasta with Chicken
by Editorial Staff
The innocent "home-style" prefix allows various favorite deviations from the "classic" recipes without fear of getting a portion of aggression from the "chefs". It also makes food cozy, comforting, and reassuring. Fettuccine alfredo is a great instant dish. Unlike Jamie Oliver, I do not shoot the program 😉 and I do not compete with anyone, so it takes me 30 minutes for this dish.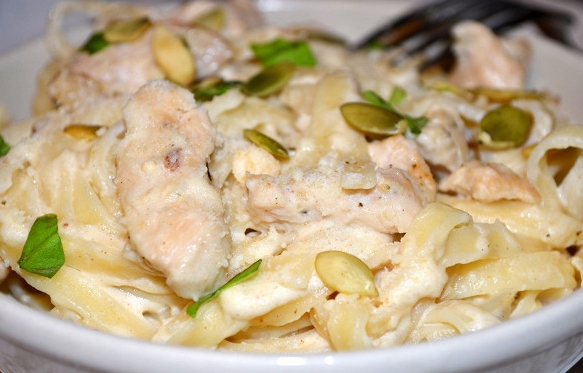 Servings: 4
Cook: 30 mins
Ingredients
Chicken fillet 2 pieces
Fettuccine pasta 350 g
Vegetable oil 2 tablespoons
Butter 1 tablespoon
Wheat flour 2 tablespoons
Milk 1 glass
Garlic 1 clove
Lemon zest 1 teaspoon
Cottage cheese tablespoons
Spice 1 teaspoon
Grated parmesan cheese 90 g
Salt taste
The ground black pepper taste
Chopped parsley 1 tablespoon
Directions
First of all, prepare your favorite pasta. Fettuccine is traditionally served with alfredo sauce. Boil the pasta in slightly salted water until al dente. We pour the water into a separate container.
At this time, cut the chicken fillet into pieces. Fry the chicken with your favorite spices in vegetable oil for 5-7 minutes.
In a frying pan (stewpan) with high edges, melt the butter, add the chopped garlic clove and zest, fry for 20 seconds until the garlic and zest give their aromas to the oil. Add flour and fry for 1 minute, stirring constantly. We introduce 1 glass of milk (if desired, you can with a low fat content), stirring constantly with a whisk. You can vary the amount of milk to achieve your desired sauce consistency. Add Neuchatel cheese, stir until the cheese disperses in the sauce. Add the Parmesan cheese and stir with a whisk.
Combine the pasta with the sauce, add half a glass or more of drained water to untie the sauce. Add the fried chicken fillet, mix gently.
Serve on a deep warm plate, garnish with grated Parmesan cheese, chopped fresh parsley or green basil. Add pumpkin seeds or pine nuts if desired.
Enjoy!
Also Like
Comments for "Homemade Alfredo Pasta with Chicken"